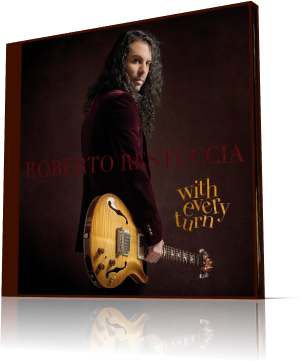 UK based guitarist Roberto Restuccia always had a special affinity for the smooth jazz genre. Neither his debut album Exposure (2016) nor his sophomore album When The Smoke Clears (2017) hit exactly the decisive point that led to the initial ignition. With his third album With Every Turn (2021) Roberto fires the third rocket stage of his career in his sights the top ten of the smooth jazz charts.
The contact with keyboardist and current label mate Oli Silk turned out to be great luck. Based on many years of experience as a musician and producer in the field of smooth jazz, Oli brought exactly the perfect input to give Roberto's music a push in the right direction.
Roberto states: "The right production makes the difference between a song thatís nice and one that can light up the charts and get people grooving when they hear it on the radio. I knew I needed to step up my production game, and once we started working together, I knew that Oli and I would have a solid partnership that could take my music to the next level."
Further musicians joining the project are Westley Joseph (drums), Derek Nash (sax) and Orefo Orakwue (bass). A well-rehearsed team with whom Oli has already performed several times in the UK. After the first notes of the opener Love Crazy germinates the certainty that Roberto has managed to develop a fascinating sound, fully aimed at contemporary tastes and bringing everything to storm the charts.
The elegant title song allures with with a melodious four-note sequence that passes through variable modulations. With You Got-Ta Roberto opts for the funky card, which is also enriched with vintage organ. We get to know the guitarist from a completely different side.
The smooth textured sound of That's It For Tonight is not the merit of Roberto alone, but grew out of Oli's fine arrangement, which nevertheless leaves Roberto enough room for virtuosity. On Mulberry opens another page of Roberto's multi-layered creativity. I am not able to say what event Roberto associates with the year 1985. Undoubtedly, he conveys to us a joyful aspect of this event.
The color blue is commonly associated with the musical genre of jazz. Now Roberto combines it with the funk to Blue Funk. The title Blues Funk, as found in biography and EPK, better describes Roberto's music in this specific case. Liquorice Pizza is a joking term for the vinyl record, derived from its appearance. Will Roberto release his music on vinyl?
Arrival was the first single of the new album receiving high acclaims. The clearly defined appealing melody should be emphasized. The final Clickin walks on the path of such groove masters as James Brown and Bootsy Collins.
Roberto Restuccia captures With Every Turn everything smooth jazz is all about. This joyous and spirited album has so much guitar flavor to give as we need in our presence.