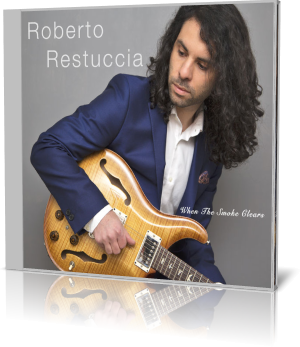 Inspired by great contemporary jazz guitarists like George Benson, Robben Ford, Larry Carlton, Chuck Loeb and the late Ronnie Jordan UK based guitarist Roberto Restuccia makes after his debut album Exposure (2016) with When The Smoke Clears (2017) the second step of his solo career.
On his sophomore project guitarist Roberto is performing a PRS Hollow Body 2 and a Fender Custom Shop Stratocaster. He is supported by Roger Inniss (bass), Russ Wilson (drums), James Johnson (keyboards), and Rock Hendricks (saxophone). All tracks are written and produced by Roberto.
After this compact package of facts let's concentrate on the album, which starts with the song Mei. This is a tribute to a beloved person, a musical dialogue between guitar and piano. The guitar sound is inspired by Mark Knopfler (Dire Straits), coherent on many levels and a real soul filler.
The emotionally emphasized When I'm With You features saxophonist Rock Hendricks who sensibly underlines Roberto's guitar recital. On Love Crazy both musicians share their vision of impressionistic harmonic symmetry. The slow paced title song draws the listener into a spectacular dream world of acoustic glamour.
The aptly titled Sensual is designed to ensure a sensuous and emotional appeal of the warm guitar timbre with every note elicited by this juvenile guitar maestro. Hooked is indeed the effect which is intended and achieved with a bluesy approach.
You hardly find a better release to ease into your summer morning than with Through the Roof. The melody is infectious and the vibe contagious! With Dancing Souls Roberto commends as a worthy successor to the great Carlos Santana. There is a unique and rare energy that occurs only with an elite part of the renown guitarists.
When The Smoke Clears is a celebration of everything guitar music is all about. We are witnessing the breathtaking evolution of a new guitar legend.