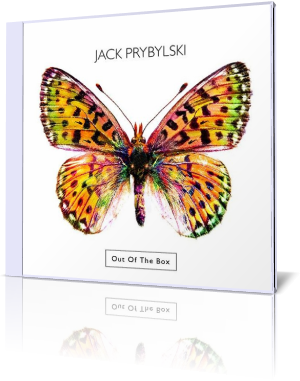 Influenced by Tom Scott and David Sanborn Jack Prybylski has released seven albums with Buffalo-based jazz group Them Jazzbeards. He started his solo career with the debut album Soho Strut (2001). On his second album Window Shopping (2006) he performed with guitar-genius Ken Navarro. "It was great working with Ken on this project and drawing on his experience not only as a musician and producer, but also as a label owner and an icon in this genre for years," says Jack.
Now Jack presents his third album Out Of The Box, which is scheduled for release 6/22 and will be available via several online retailers and earlier at Jack's website. Jack recorded this album with Rob DeBoer (guitar, keyboards, bass, programming) and Tony Grace (drums, percussion, programming), both members of the famous acid jazz group Four 80 East.
Jack comments: "I was totally blown away by the ideas Tony and Rob (Four 80 East) brought to the table. I wanted something a little more aggressive and a little less safe than the previous releases. Sometimes it's fun to color outside of the lines."
We dive into Jack's album with Head Hunter, a creation of the fab two. Driven by dynamic bass and wah-wah guitar the track walks on the line between retro quotes and contemporary jazz.
The 78' hit of omnipotent Rod Stewart Do Ya Think I'm Sexy? finds a nice refurbishment on Jack's album. The title Ice Cream was penned by Jack's friend Stoney Dixon. Rob gives this song its own contemporary twist.
Like Jack I am totally blown away by the music of Four80East. This signature sound and rhythm is Out Of The Box now. This is Jack in a new modern direction. A step into the future. Hoodoo is the charming conjuration of Funk. Wah-wah guitar and a pulsing beat underline Jack's new experiment.
With Duran Duran's Save The Prayer Jack opens widely the door to the kingdom of transcendental spherical music. Michael Miskuly is the wizard of violin. Jack passes the borders of smooth jazz. Well done!
The mid-tempo Down To It is a handshake to Stuart's Down To The Bone. Reminiscently Jack's exposes short sax loops on a propelling rhythm to the audience. Then he asked me, son of a man, can these dry bones live? Valley Of The Dry Bones is certainly an unusual choice for a title. But on the other side, how do you want to express this melancholy in the song in another way?
There is gospel and there is funk and in between you find Saints & Sinners. Go for it! Sax In A Box is a cover of Justin Timberlake's and Andy Samberg's remarkable and viral parody * In A Box (2006). Jack presents a veritable variations of sax, if you know what I mean.
Jack of all trades Prybylski met Four 80 East. A stroke of luck for all, for the musicians and for the listeners. This album is an entertaining act.





Buy the album



Album Information

Title: Out Of The Box
Artist: Jack Prybylski
Year: 2010
Length: 0:43:11
Genre: General Jazz
Label: Innervision Records & Entertainment


Tracks:

01 Head Hunter [3:59]
02 Do Ya Think I'm Sexy? [4:34]
03 Ice Cream [4:17]
04 Out Of The Box [4:25]
05 Hoodoo [4:04]
06 Save A Prayer [4:11]
07 Down To It [4:53]
08 Valley Of The Dry Bones [5:03]
09 Saints & Sinners [3:45]
10 Sax In A Box [3:59]