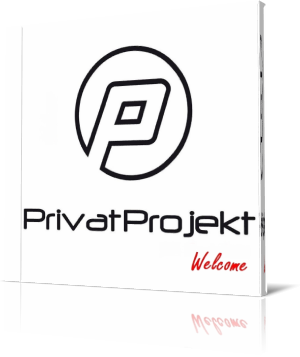 PrivatProjekt is a German band hailing from Hamburg. Founder of the formation is keyboardist Michel Reckhard. Comparable to the British group Incognito, initiated by Bluey, Michel is the creative free spirit who gathers professional musicians around him from the local music scene. Thus, for his projects, changing line-ups can be found, which transform his sparkling ideas into inspiring music.
On his new album Welcome (2020) he performs drums, percussion, keys, synthesizer and backing vocals. He is joined by Jens Salsa (bass, guitar, keys, sythesizer, backing vocals), Alexander Precht (keys, synthesizer, backing vocals), Andrea Weiß, Bonny Ferrer, LayG, Stefanie Schandt, Eniola Falase (vocals), Gina Taperla Weppler and ForYourSoul (backing vocals), Michael Albers (guitar), Sven "Rolli Rhdes" Klemme (keys), and Nigel Lowis (guitar).
With about fifteen tracks you get much music for your money. The band describes their music as neo-soul, funk and philly. If comparisons are allowed, then the music of the British band Incognito or the Dutch group Tristan comes to mind most readily. The album starts immediately with the title song featuring vocalist Bonny Ferrer. More tolerance, understanding and respect, no distance, contempt and incorrectness, these are the main concerns of this formation, which also see themselves as a mediator of a political approach.
The Way To Love shines with a rousing stomping beat and Philly orchestral strings background, which not only supports the vocal performance of the singer LayG but becomes an equal stimulator itself. Only Heaven Knows featuring singer Stefanie S. picks up where the soul highlights and top acts of yesteryear left off, such as Swing Out Sister, Joyce Sims and Whitney Houston.
Learn to Love Again brings with Andrea Weiß a singer who does not come with a smooth voice, but has retained her idiosyncrasy. One really feels set back forty years with PrivatProjekt's music, when female singers were popular like Jody Watley, Princess or Millie Scott. The One is straightforward and melodic.
The song Dont Walk That Way is represented on the album in two versions. The original is featuring vocalist Stefanie S., the second one in addition guitarist Nigel Lowis in a Chic-A-Delic-Remix. Similarities with Nile Rodgers and the group Chic are not accidental but intentional.
I Go Back features anew singer Andrea Weiß. Like all the vocalists involved in the project, a seasoned singer with plenty of stage and studio experience. You Make May Day presents the singer who is also based in Hamburg, Bonny Ferrer. Bonny provides a varied program with a range of different musical styles, such as pop, soul and Latin. A passionate entertainer with a soulful voice.
If we are introducing the singers involved, then Stefanie S. must not be missed, who is presented once again on I Never Mind It. Stefanie Schwandt works with various formations like Soultastix, For Your Soul, Eat More Fish and of course PrivatProjekt. Interpreted out of context, Marvin is a tribute to the legendary singer Marvin Gaye, who died too soon.
Discolove is the first instrumental of the album, a reminiscence of the time when Studio 54 was shining in the big light. Never Felt So Good seamlessly follows this style with lots of power, orchestral hits and a well performing Stefanie. Bonny Ferrer celebrates the full range of rollicking happiness with My Own Way. All in Me gives some space to the instrumental side of the band, but the spoken word also has its place.
With Welcome, the formation PrivatProjekt has maneuvered itself from the position of an insider tip into the stage light of a new discovery. It's about time that this new encounter makes the rounds in all radio stations and turntables worldwide.




Buy the album in all stores

Album Information

Title: Welcome
Artist: PrivatProjekt
Year: 2020
Genre: Acid Jazz
Label: Independent

Tracks:

1) Welcome (3:34)
2) The Way to Love (3:07)
3) Only Heaven Knows (3:21)
4) Learn to Love Again (3:29)
5) The One (3:42)
6) Dont Walk That Way (Original) (3:10)
7) I Go Back (3:17)
8) You Make May Day (4:36)
9) I Never Mind It" (3:30)
10) Marvin (3:40)
11) Discolove (Instrumental) (4:38)
12) Never Felt So Good (3:27)
13) My Own Way (3:15)
14) All in Me (4:02)
15) Dont Walk That Way (Nigel Lowis Chic-A-Delic-Rmx) (6:16)