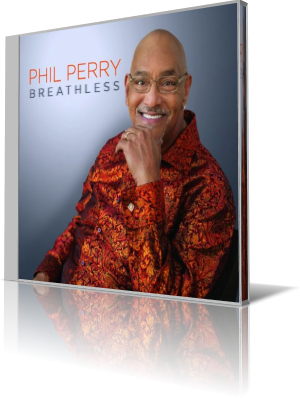 R&B icon Phil Perry is the featured vocalist on countless jazz and smooth jazz albums by George Benson, Fourplay, Najee, Bill Withers and many more. He is connected with Shanachie Entertainment since 2006. After Love Songs (2006), followed on this label Mighty Love (2007), Ready For Love (2010), Say Yes (2013) and A Better Man (2015). This year he returns with Breathless.
Phil works on the new album together again with longtime collaborator, producer and keyboardist Chris "Big Dog" Davis. Both have the same ideal chemistry and are a well-established team. Further joining musicians are Asa Livingston (bass), Robbie Day, Tony DePaolo (guitar), Dawn Tall, Donnelly Smallwood, Rashan Langley, Kevin And Devotion, James (Bro) Minnis, Timmy Maia (background vocals), and Joe Cunningham (sax).
The album starts with the love ballad Breathless. Phil muses about the effects of love and excels in the well-known depth of expression, whereby he partly also reveals his scat-singing prowess. With the song Never Can Say Goodbye written by Fred Sawyers Phil moves deeper into one of the most emotional compositions.
Do Whatcha Gotta Do comes short, crisper and powerful with a more contemporary uptempo music feeling. Love's in Need of Love Today from Stevie Wonder's hit album Songs in the Key of Life (1976) shines in a modern Gospel arrangement. Chris "Big Dog" Davis steps in with serious key strokes on piano.
Is It You is a musical gem from Lee Ritenour's album Rit (1981) featuring guest vocalist Eric Tagg on the original version. Phil presents the cover with vocal grandeur and exquisite vintage instrumentation. Phil Perry is quite willing to take new paths. So he likes to take the Hip Hop rhythm served by Chris "Big Dog" Davis on Nobody but You and it works. But Phil's fundamental strength lies in his breathtaking harmonies like on Heavens Away, especially when he effortlessly switches over to falsetto.
One Less Bell to Answer by Burt Bacharach and Hal David was already covered by a plethora of world-class singers like Barbara Streisand, Shirley Bassey, Dionne Warwick or Sheryl Crow. Nevertheless the song seems almost tailored to fit Perry's perfect tone. With Someday We'll Meet Again and Moments in the House of Love more exquisite pearls of vocal art rows into the American Songbook.
Phil Perry has firmly established an artistic foothold in the R&B genre. With Breathless Phil cultivates singing art with a richness of fine vocal expression in the tradition of Luther Vandross and Teddy Pendergrass.