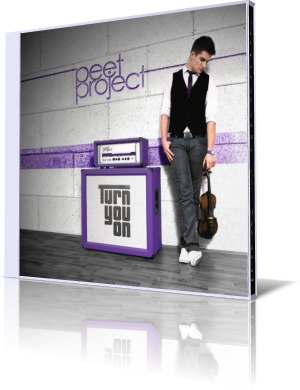 The Hungarian smooth jazz group Peet Project is influenced by artists like Candy Dulfer, Mezzoforte, George Duke, EWF or Prince. The group comprised of violinist, composer, producer Peter "Peet" Ferencz, keyboarder Ádám Lőrincz and saxophone player and jazz educator Marci Mits.
Their first EP, Pink Spirit, released January 26, 2010, already garnered a rave review by Sandy Shore, who described the Pink Spirit CD as an "attention-getting, Smooth Jazz smash!" With their sophomore album Turn You On the band intends to improve their international awareness. While the band stills performs in jazz clubs in and around Budapest, the album might be a messenger and precursor for the International career of this group.
Does The Music Turn You? is the deciding question and the starting turn of the album. With a fresh and contemporary sound the group allures the audience. The performance of a violin as lead instrument isn't unusual. Artists like Noell Webb, Doug Cameron, Karen Briggs or Ken Ford made this instrument popular.
The funky Step Into The Party! is inspired by Candy Dulfer's funk style and enthuses with a highly entertaining potential. The group seamlessly follows the great music of The Brothers Johnson or Cameo. The up-tempo Hey Girl keeps the attention on a high-pitched level.
Now Your're Gone is a funky burner with an uplifting catchy melody, just let you hum along or swing around. The heavy groovin' Don't You Worry showcases the meeting of electric violin with Wah guitar, an interesting and extraordinary mixture. Everybody has different memories of his youth, when he is Grown Up. According to the melody the members of Peet project had a splendid past and the future of this state seems to change anything.
Chill With Us! is a structured song with the focus on Ferencz' violin. The main theme is duplicated by Lőrincz' keyboard before the song meanders into Áron Koós-Hutás' brilliant trumpet solo. Funky Guy v2.0 presents a stirring funk with great vocoder effects. How It Feels is digging deep into the funk borrowing from the spirit of Grandmaster Flash's The Message. These guys have a good wire to music history.
September is Peet Project's tribute to the legenday formation Earth, Wind & Fire. The violin gives this rendition a special note. The final Nem Kell Félnem (No need not fear) brilliantly melts elements of popular music with hip hop beats and smooth jazz to an irresistible song with the exotic charm of the Hungarian language.
Peet Project's Turn You On is an album, which deserves more attention. European smooth jazz is offering fruitful ideas, definitely beneficial for the development of American smooth jazz.