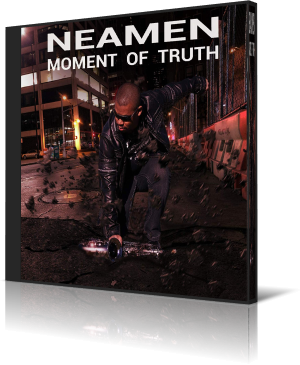 Arizona native sax performer Neamen Lyles aka Neamen began his solo career striving to be a smooth jazz star. In this rare case, claim and reality coincide. Recordings and performances with the likes of Jeff Lorber, Rick Braun, Mel Brown, Mindi Abair and sharing events with Dave Koz, Jay Soto, Greg Karrukas and others speak a clear language.
He dispelled all doubts with his debut work So Free (2011), which was highly praised by critics. Now he continues his earlier success and has released his second album Moment Of Truth together with Jay Soto, with whom he also produced his debut album.
Neamen performs on the new album tenor, alto and soprano saxophones, Jay Soto guitars and keyboards. Jay also made mixing and engineering. Additional musicians are Austin Carthell, Rachelle Youngberg, Eric Loveres, Erika Schiff, Steve Lane and Crystal Stark (lead vocals), Jodi Light (background vocals), Tom Gioia, Marlon McClain (guitars), Mikey B (B3), Mel Brown, Mario Mendivil (bass), Tony Mora, Yon Yokobian (drums and percussion), Rick Peron, Carlos Chavez (trumpet), Bobby Hastings, Bradon Larson (tenor sax) and Hiram Perez (baritone sax).
Firestarter is the fulminant begin of the album presenting Neamen as sax performer of a vivid stomping disco style. Flash Back Rhythm is his rediscovery of the funk in its explosive mixture. Edgy and genuine as we like this genre.
Feng Shui Engine is a figure from the Street Fighter series. Neamen transfers the brute fighting strength to his energetic electrifying sax style. With A-Game he dives into new realms of rhythm enhanced melodies in forward motion. Generations features vocalist Rachelle Youngberg whose beautiful voice harmonizes perfectly with her outward appearance.
The title Prelude of Strength is a solo piano piece with a classical approach but has nevertheless an instrumental or thematic connection to the following My Strength. Neamen comments: "For technical reasons we decided to put the piano prelude on a separate track than the My Strength but in actually they are one song." In this R&B song with religious reference Neamen unfolds all his skills. Singer Eric Loveres, who wasn't on my radar until now, is a vocal force not to be underestimate.
With Bad Jamie Neamen enters the Pop genre and vocalist Erika Schiff is the best cast to get the message across credibly. You'll Never Know has all ingredients for a smooth jazz hit, furious sax play, hooky melody and the popular urban stomping beat. To the Sun brings with Rock singer Steve Lane a powerful Rock attitude into game.
Your Move is another strong smooth jazz tune. Neamen tears it up again! This Love is Yours features the lovely voice of Crystal Stark, which unfortunately is not mentioned in the credits of the album, although her smooth-as-gold voice deserves it note by note.
Listening to Neamen's new album Moment Of Truth you are amazed how scarcely this exceptionally gifted saxophonist can be seen and heard in the smooth jazz scene. This cross-genre talent belongs on stage.





Buy the album in all stores

Album Information

Title: Moment Of Truth
Artist: Neamen
Year: 2019
Genre: Smooth Jazz
Label: Innervison Records


Tracks:

1. Firestarter
2. Flash Back Rhythm
3. Feng Shui Engine
4. A-Game
5. Generations
6. Prelude of Strength
7. My Strength
8. Bad Jamie
9. You'll Never Know
10. To the Sun
11. Your Move
12. This Love is Yours

Further Review:

So Free