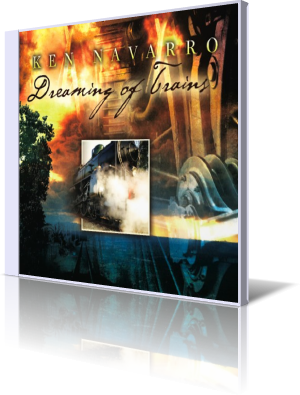 Ken Navarro is a lover. A lover of intensely colored, great and detailed music, a lover of musical dreams, realized in all their attractiveness and breathtaking perfection in one album. Dreaming of Trains is Ken's newest opus, his 19th album and according to Navarro's comment his best so far. The title stands for change, journey and movement, all attributes which influence Ken's musical development.
Featured musicians include Jay Rowe (keyboards), Tom Kennedy (bass) and Joel Rosenblatt (drums). The album starts with the introduction Dream So Real, which Ken understands as a gateway to his album. The sound is swelling softly like a perfume, melting seamlessly Ann Sacks' classical vocals with Ken's guitar chords.
The driving tune Self Propelled has a specific groove which you certainly experienced in Pat Metheny's music. While Ken leads on guitars, Jay Rowe answers on acoustic piano and keyboards creating the fine finish.
The door opens to the main room of the album, True Stories. The mystic of the song is conjured with different elements, which might be known by the listener but are new in their compositional structure.
The title track Dreaming Of Trains is build of many sections connected by an orchestral bond. Ken Navarro paints the musical picture of a train, moving through life and offering on this travel constantly new impressions. The transitions between the parts of the track, presented as key-change or tempo-change, are not always smooth, which was Ken's intention.
Ken Navarro was influenced during his career by many guitarists like Carlos Santana, Eric Clapton, Pat Metheny and also Buzz Feiten. The Buzz is a homage to this guitar player and Ken's other idols. The song has mellow but also fusion elements, which separate this song from the usual smooth jazz tunes. After the high energy song of The Buzz Ken placed the cool down song Shared Air. The peaceful tune offers time for relaxation and further dreaming.
Everything Being Is Dancing is a tune, building up from Rosenblatt's drums to Ken's guitars. Ken lays one instrument over the other and constructs a signature sound, which reinvents itself in several formations. The Stars, The Snow, The Fire was Ken's first song, he wrote and recorded in his new studio. The song presents in his second part a swinging and style which was a difficult platform for Ken's jazzy improvisation. This fragment is framed by the appealing melodious parts.
The album finds a smooth finish with Gymnopedie No. 1, a composition by Eric Satie (1988). A song, which Ken first played during his college time and never faded out of his head. The beauty in melody and single notes. Jay Rowe and Ken Navarro in perfect harmony.
Ken Navarro created with Dreaming of Trains a fascinating concept album far beyond common smooth jazz and contemporary jazz albums. Meanwhile he has developed his own exemplary style, a true musical evolution.








Buy the album in all stores



Album Information

Title: Dreaming Of Trains
Artist: Ken Navarro
Year: 2010
Length: 0:51:19
Genre: General Jazz
Label: Positive Music


Tracks:

01 Dream So Real [2:47]
02 Self Propelled [4:47]
03 True Stories [8:45]
04 Dreaming Of Trains [8:28]
05 The Buzz [4:36]
06 Shared Air [5:44]
07 Everything Being Is Dancing [5:44]
08 The Stars, The Snow, The Fire [7:24]
09 Gymnopedie No. 1 [3:05]


Further reviews