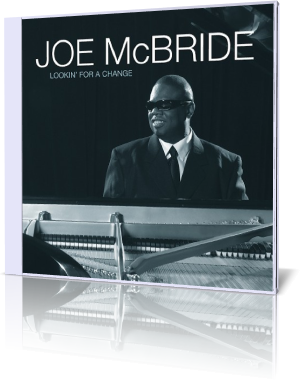 Fulton, Missouri born Joe McBride has a strong connection to Heads Up International. He attended the North Texas State University to study jazz and performance, where he met Dave Love, founder of Heads Up International. He is one of those seldom artists who never changed the label. Joe started his career with Grace (1992), followed by A Gift For Tomorrow (1994), Keys To Your Heart (1996), Double Take (1998), Texas Rhythm Club (2000), Keepin' It Real (2002) and Texas Hold'em (2005).
He continues his strong connection with Lookin' For A Change scheduled for release July 28, 2009. Joe is supported by his live trio – guitarist Dan Wilson, bassist Roger Hines and drummer Elijah Gilmore. The title of the new album is programmatic. Joe explains: "The majority of my releases in the past have been primarily electronic, with an acoustic piano playing over the top of arrangements that were primarily put together with drum machines and other technology. I've loved contemporary jazz. It's been a lot of fun playing that kind of music. But I wanted to move forward a little bit, demonstrate a little growth, try something new."
That said Joe's interpretation of new is a collection of pop songs performed in a jazzy style. Beside these covers Joe also offers three new own compositions. Following the huge hype around Gnarls Barkley's megahit Crazy (2006), provoking covers of Nelly Furtado, The Kooks, The Zutons, Prince and many more, Joe couldn't resist to oppose his own rendition.
Vanessa Carlton wrote 1000 Miles for her debut album Be Not Nobody (2002). This piano driven Pop song has a strong melody line and perfectly suits for Joe Mbride's jazz escapade. "I like how easily the Vanessa Carlton tune translated to jazz," says McBride. "It swings very easily. It was very easy to put into a straight-ahead bag."
The Scientist was released on Coldplay's second album A Rush of Blood to the Head (2002). Joe brings this piano ballade to a new level. His heartfelt song is crowned by his impeccable piano performance. I never expected that someone would ever cover Cameo's Word Up. Joe withstands the temptation to interpret the song in a funky way, and that's really a pearl of funk. We are observing the rebirth of a song in a truly jazzy spirit. Both interpretations will stand the time.
It's Over Now reveals more of Joe McBride's own personality. This is Joe's exact soul. This Is How A Heart Breaks from Matchbox Twenty frontman Rob Thomas's debut album ... Something to Be (2005) finds a sophisticated jazz flavored equivalent in Joe's version. Kiss From A Rose is Seal's song of the songs. Released in 1994 on his second album Seal II it became a megahit as part of the Batman Forever film soundtrack. Take it as Joe's homage to this unsurpassable singer.
Corrine Bailey Rae's Like a Star moved so many people by her fresh and innocent vocals. Joe's approach to the song is from the Samba side. "I like the samba feel on that track," comments McBride. "There's a really great acoustic guitar solo in there by Dan Wilson." With Secret Rendezvous Joe offers another mellow ballade with an awesome harmonica solo.
NY troubadour Gavin DeGraw composed I Don't Wanna Be for his debut album Chariot (2003), featured as the theme song for the TV drama One Tree Hill. A surprising change of a rock song to a soul ballade with some rock elements. John Mayer has written Say for the Rob Reiner film The Bucket List in 2007. Joe transfers this bittersweet ballade to more uplifting fields.
Joe finishes the album with the title track Lookin' For A Change bringing together the best elements of jazz and R&B in the style of Al Jarreau. Don't miss his message!
Joe McBride's new album Lookin' For A Change is a great collection of infectious and modern songs that you either liked or heard repeated constantly on the radio. Joe reflects these songs in his own unique style with a big input of his personality.






Album Information

Title: Looking' For A Change
Artist: Joe McBride
Year: 2009
Length: 1:06:58
Genre: General Jazz
Label: Heads Up International


Tracks:

01 Crazy [4:44]
02 1000 Miles [6:29]
03 The Scientist [5:38]
04 Word Up [4:44]
05 It's Over Now [5:06]
06 This Is How A Heart Breaks [4:53]
07 Kiss From A Rose [6:09]
08 Like A Star [5:12]
09 Secret Rendezvous [5:20]
10 I Don't Wanna Be [6:37]
11 Say [6:21]
12 Lookin' For A Change [5:46]



Further Review