| | |
| --- | --- |
| Archive | |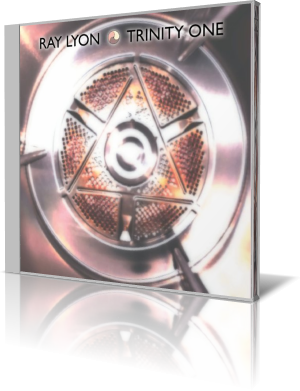 In the genre of Christian music Ray Lyon has found a safe harbor. He has released on his own label Burning Blue Records three albums, Farewell To Shadowlands (1993), Figures Of The True (2000) and in 2007 Beginning To See. His newest project is entitled Trinity One (2016).
The new album is composed, arranged and produced by Ray Lyon except for Solar (Flare), which is by Miles Davis. Keyboardist Ray Lyon is supported by drummer Bill Berg and bassist Jimmy Haslip. Ray describes his new music: "This music represents a diverse melodic approach to modern jazz … highly listenable yet complex in beauty, depth and execution these are storytelling tunes that inspire and expand the contemporary jazz genre".
If you know the passion with which Ray has internalized the music of Pat Metheny and Lyle Mays, his music style is easily comprehensible. For many, who miss this music, Ray provides replacement in abundance. Trinity One embodies this transcendent, astral atmosphere and Bill Berg and Jimmy Haslip perfectly fit into Ray's musical concept.
When Weak Is Strong chooses another approach. Harmonic exploratory of the melodic possibilities combined with chord progression, dynamic acceleration and improvisation maintains an ambience speaking more to the brain than to the heart.
/4 Odd Dance is a full contact bebop with a swinging rhythm. A modern jazz piece in the tradition of straight ahead jazz. The title Ezekiel's Wheel refers to two Old Testament scriptures about celestial phenomena of cherubims driving four wheels. This awe-inspiring image exceeding mental capturing possibilities with the blissful radiance of a spontaneous energy is accentuated by Ray's far-reaching music.
Don't Let Me Fall comes acoustically with a contemplative mood. Slowly the tune drifts into harmonic spheres. Solar is a musical composition attributed to Miles Davis on the studio album Walkin' (1954). Ray's rendition develops the original to a furious bebop track. The solo piano piece In The Day Of Small Things develops contemplation to an Olympic discipline or can be understand as musical contribution to worship. So Be It allures with harmonies inspired by Lyle Mays. The tune encompasses a subtle nuances galore with short excursions into jazzier fields.
Trinity One is contemporary jazz music with Ray Lyon's personal note. The brightness of his sonic perfection is only surpassed by his outstanding creativity as passionate and ardent composer.




Buy the album in all stores

Album Information

Title: Trinity One
Artist: Ray Lyon
Year: 2016
Genre: Contemporary Jazz
Label: Burning Blue Records


Tracks:

01 Trinity One [4:38]
02 When Weak Is Strong [5:36]
03 /4 Odd Dance [6:18]
04 Ezekiel's Wheel [6:39]
05 Don't Let Me Fall [8:41]
06 Solar (Flare) [5:13]
07 In The Day Of Small Things [6:20]
08 So Be It [7:08]


Further reviews:


Beginning To See

Figures Of The True