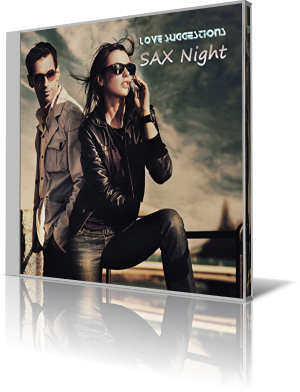 Multi-instrumentalist Konstantin Klashtorni has designed the Love Suggestions series for lovers to spend nice evenings together. The main emphasis is on one instrument in the foreground without neglecting other instruments. That in mind he already released Piano Night in 2013 and Guitar Night in 2014. Now he returns with the long-awaited Sax Night.
With a romantic and melodious approach he creates R&B oriented smooth jazz with that certain twist. Listening to the first notes of Thick of It brings back in mind, what we miss since the release of his latest album in 2016. With the perfect balance of flavor coming out of the land of rhythm and groove Konstantin creates with sax, flute and guitar the magical melody line.
There Goes My Baby rides on an emotional wave incorporating gospel elements and some retro feeling. Sax and guitar are living in a fine neighborhood. The sweeping ballad Shape of You reunites flute and sax to a deceptively accessible celestial arrangement. Don't Wanna Know flows in a coherent fluid music stream that is smooth like Italian ice cream.
That's What I Like reveals a beautiful melody, which has already been heard in one way or another. Nothing to bother about with the exception of the desperate desire to find the similar sounding piece. I would opt for Stevie Wonder. Now relax and sit back to listen to the mellifluously seductive sax on U + Me.
She Lovin It reveals Konstantin's uncanny virtuosity of working at a chromatic harmonic level and arrangement weaving an irresistible tapestry of sax and keys. Back 2 Life is another charming melody intertwining with a lightness of touch flute and sax. Better Man slows down the pace to soothing moments.
The harshness of the title Don't Want You Back stands in diametrical contrast to the grace of the saxophone-loaded melody. Million Reasons shines with spatial grandeur. Outstanding sax overdubs find their equivalent in an excellent arrangement.
Konstantin Klashtorni is the epitome of perfect smooth jazz. A courageous guardian of the better sound.