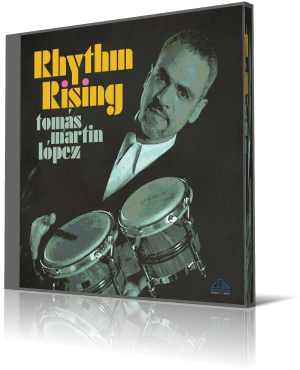 New York based percussionist Tomás Martin López started his musical career with salsa bands in his local area. He additionally performed with jazz greats such as Billy Cobham, Bill O'Connell, Mark Egan, the West Point Jazz Knights, Louie Ramirez, Ray De La Paz, Lalo Rodriguez and many more.

His solo projects are On The Beat Path (2010) and Rhythm Rising (2018). The new album was recorded by Bill O'Connell (piano), David Mann (saxes & flute), Jeff Ciampa (guitar & synth), Richie Barshay (drums), Ruben Rodriguez (bass), and Tomas Martin Lopez (congas & percussion).
The album starts with the title song. As expected with an album by a percussionist, the song is full of various rhythm elements of Latin American provenance. Phenomenal star interpret is however Bill O'Connell on piano, who deserves his distinctive jazz style, which he has rightly earned in decades of collaboration with everything that has a name in Latin jazz.
Running in Place reunites the group to a grandiose fusion of Latin American rhythmic cadenza. Inversions develops a perfect flow on a Samba base in which the various instruments mesh seamlessly with each other. On Soul Six López creates a tight rhythm frame, who is literally inciting guitarist Jeff Ciampa to fire a rocket of guitar sequences.
On Sonic Tonic every musician is part of the rhythm emphasized tune keeping things moving in a rush. Stilts expands again in a Samba enthusiasm and Ciampa's wild and passionate guitar sits surprisingly well over the top. The aptly entitled Un Poco Loco reveals the somewhat experimental attitude of the formation, but where every note is predetermined and has its place.
Bossa Dorado from the album Notre Histoire (1986) is a Bossa Nova piece by gypsy guitarist Dorado Schmitt, which was several weeks in the German jazz charts and is todays a jazz standard. The interpretation on this album puts the focus more on percussion and other instruments, while the original displays Schmitt's virtuosity on acoustic guitar.
The elegiac Little T is a slow-tempo Bolero, a rhythm art form, which was very popular in the early 20th century. On Up in Smoke the group is joined by further musicians like Carlo Lopez (Kenken bell), Chris Pasin, Chris Persad (trumpets), and Tim Sessions (trombone). Of course this piece convinces especially the fans of brass. Surprisingly, the piece then changes into a jazzy playing style in which the music is carried on by the guitarist. Shortly after, however, the rhythm group starts again, offering an interesting interval. Thus the piece offers a living image of different styles.
Rhythm Rising is especially aimed at music lovers of Latin jazz who are impressed by the authenticity and professionalism of the musicians involved.





Buy the album in all stores

Album Information

Title: Rhythm Rising
Artist: Tomás Martin López
Year: 2018
Genre: Latin Jazz
Label: Independent


Tracks:

1 Rhythm Rising 6:31
2 Running in Place 4:00
3 Inversions 4:09
4 Soul Six 7:01
5 Sonic Tonic 4:59
6 Stilts 4:57
7 Un Poco Loco 6:22
8 Bossa Dorado 4:48
9 Little T 6:28
10 Up in Smoke 6:39