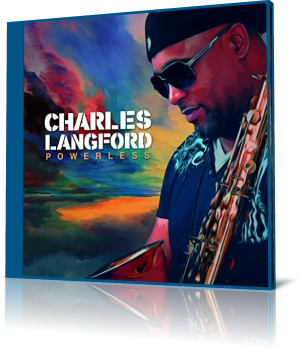 Hailing from Springfield, MA saxophonist Charles Langford is todays one of Boston's top player. He already performed with The Toni Lynn Washington Blues Band, The Temptations, Mighty Sam McClain, Melvin Sparks, Norman Connors, Solomon Burke, and Steve Turre. His debut album was That's Wassup in 2008. Now he returns on Blue Canoe Records with the album Powerless (2021).

Compared with his previous project Charles hasn't changed his style, an elegant mélange of smooth and contemporary jazz. Charles is joined by label mates like Jimmy Haslip, Jimmy Branley, Russell Ferrante and many other notable musicians listed in the credits. Charles has written all tracks, one cover in sight.
The first track of the album Bliss already attracts attention because of the fact that two saxophonists, Langford and Elan Trotman work jointly. Two individuals with different stylistic origins come together, and the piece leaves plenty of room for their own personal improvisations.

Feel The Light reminds me of the music of the Motown era and it comes across authentically. Better Days Ahead shows his optimism in these gloomy times. With the sweetness of a soprano saxophone, he puts us in the mood for a better future. The positive attitude is also joined by It's A New Day with an encouraging melody. Optimism knows no bounds with the cheerful Feeling Nice. Guitarist Wali Ali throws some rock into the mix.
I really like this cover of Close To You, a song written by Burt Bacharach and Hal David. You can tell Charles has all the time in the world. This relaxation is also fully lived out on Let's Chill. Avery Sharpe shows us how an upright bass has to sound. That guitarist Wali Ali can also sing, one notices at the latest when he raises his sonorous voice on Midnight Mood.
Drive Time is often the period listening music. What could be better to play the anthem for this great time. Holding Back is not Charles' great talent. He loves to play his instrument with fervor. Powerless is a feeling that often creeps up on us in this day and age. After all, the overall circumstances give us enough reasons for it. Charles, however, powerfully tackles the subject from the jazzy side.
Thinking Back shines with accurate arrangement, especially of the wind instruments used. Some melancholy resonates from the melody. Final tune is the exciting up-tempo Top Secret which showcases all musicians in full action.
Charles Langford's album Powerless is not a common run-of-the-mine smooth jazz project. Clearly recognizable is the creativity, passion and commitment that all musicians have contributed.





Buy the album in all stores



Album Information



Title: Powerless
Artist: Charles Langford
Year: 2021
Genre: Smooth Jazz
Label: Blue Canoe Records

Tracks:

1) "Bliss" (4:03)
2) "Feel The Light" (4:17)
3) "Better Days Ahead" (3:55)
4) "It's A New Day" (4:46)
5) "Feeling Nice" (4:16)
6) "Close to You" (3:23)
7) "Let's Chill" (3:55)
8) "Midnight Mood" (4:30)
9) "Drive Time" (4:41)
10) "Holding Back" (4:03)
11) "Powerless" (4:52)
12) "Thinking Back" (3:51)
13) "Top Secret" (6:50)






Credits:

Saxes, Programming, Additional Keys: Charles Langford
Tenor Sax, Keys, Percussion (track 1): Elan Trotman
Bass, Keys (tracks 1, 13): Jimmy Haslip
Bass (tracks 7, 11): Avery Sharpe
Bass (track 3, 9): Tom Appleman
Bass (track 6): Lenny Stallworth
Drums and Percussion (tracks 1, 3, 7, 11, 13): Jimmy Branly
Drums (track 9): Poogie Bell
Drums (track 8): Abi Robles
Guitar (tracks 1, 4, 5, 6, 7, 8, 9, 10, 12): Wali Ali
Guitar (track 2): Kasper Gali
Guitar (tracks 3, 5, 11): Randy Razz
Keys (track 13): Russell Ferrante
Keys, Programming (tracks 1, 2, 6, 8, 9): Mark Rassmussen
Keys, Bass, Drum Programming (tracks 2, 4, 10, 12): Brad Hatfield
Piano and Rhodes (track 3, 9): Chip Crawford
Piano (track 7, 11): Mike King
Vocals (track 2): Alvin Roberts
Vocals (track 8): Wali Ali
Recording Engineer (track 1, 13): Jimmy Branly
Mixed and Mastered: Matt LaPoint (Los Angeles, CA)
Produced: Charles Langford
Co-Produced (tracks 1, 13): Jimmy Haslip
Co-Produced (tracks 2, 10, 12): Brad Hatfield
Co-Produced (tracks 2, 6): Mark Rassmussen
Album Art: Thomas Heflin