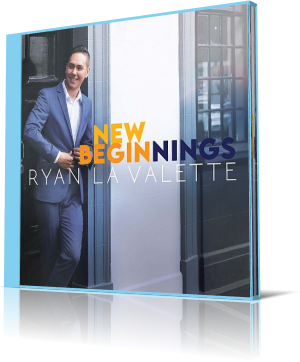 Let's describe Ryan La Valette as a multi-instrumentalist. He started to play guitar, then saxophone and also learned the bass. Influenced by music and style of guitar legend George Benson Ryan primarily consider himself as guitar player.
A graduate of the School of Audio Engineering (SAE) Auckland he was well aware that expanding outside New Zealand into America would be significant for his development. For his debut album Saturated Smooth (2018) he was able to win over guitarist Clay Benjamin and saxophonist Donald Hayes as guest musicians. After releasing his sophomore album Dimensions of Me in 2020, it was natural for him to seek further contact with American musicians.
In keyboardist and producer Greg Manning he has found his spiritus rector, who not only put him in touch with the Trippin 'N' Rhythm label, but also played a decisive role in his debut work for this label. His album New Beginnings (2022) is Ryan's embarking on a new episode in his artistic career. Ultimately, in addition to Greg Manning, keyboardists and producers Nicholas Cole and Chris "Big Dog" Davis are also involved in his album.
Ryan has written all songs of the new album, which says a lot about his own compositional talent. This was probably one of the arguments for the aforementioned musicians to identify with Ryan's music and to get involved themselves in the realization of his project. The album starts with the appropriately titled Intro. Ryan takes the first opportunity to show the full range of his instrumental skills, playing the organ, clavinet, rhythm guitar and synth bass. To thunderous applause, he gets the listener in the mood for what to expect on the next songs.
With New Beginnings, he shows that he is very familiar with the musical currents and has mastered his craft of introducing the listener to great things with just a few chords. Certainly Greg Manning contributed a key or two on the keyboard with his tuneful vibes. An extremely successful start. Ryan goes one better with Let It Flow. This is the first single, which has been burning itself into the turntables of the radio stations for weeks.
Another Day In Paradise is not a new interpretation of Phil Collins' monster hit, but your smooth jazz treat with Lin Rountree's trumpet interlude as the icing on the cake. But Ryan's guitar playing is also so easy that one can predict a golden future for him. The romance factor is not neglected in Ryan's album either. On Lover's Melody Ryan is equally supported by two keyboard greats, Greg Manning and Nicholas Cole.
After the short interlude In Transition follows No Limits. Here Ryan reaches for the piccolo bass and brings a whole new nuance to the game. Highway 10 picks up this instrumentation again, with the saxophone arrangement being even more sophisticated. Monday Swagger is spiced up perfectly by Nicholas' intricate synth arrangements.
Room For 2 reunites Ryan on piccolo bass with trumpeter Lin Rountree to a dreamy overall. On the stomping Don't Stop Believing Ryan concentrates on the sax in a very uplifting way. You can't tell the difference to such polished sax players as Dave Koz or Darren Rahn.
AMG Power seems to be a homage to Mercedes' noble brand with its exceedingly powerful engines. In any case, Ryan's dynamism comes across credibly. This fast-paced piece is followed by the romantically inclined Closer To You, on which Chris Davis shines alongside Ryan. Chris's high-class piano playing reminds me of keyboard legend George Duke. The album closes with the postlude From The Heart, which moves one in its gentleness.
When you come into contact with a new musician for the first time, expectations are not high. But what Ryan La Valette delivers on his album New Beginnings not only amazed but thrilled me. Such musical maturity combined with a distinctive compositional and instrumental multi-talent is rarely found. Chapeau!





Buy the album in all stores



Album Information



Title: New Beginnings
Artist: Ryan La Valette
Year: 2022
Genre: Smooth Jazz
Label: Trippin 'N' Rhythm

Tracks:

1) Intro (1:33)
2) New Beginnings (4:41)
3) Let It Flow (4:06)
4) Another Day In Paradise (feat. Lin Rountree) (4:23)
5) Lover's Melody (feat. Nicholas Cole) (5:06)
6) In Transition (0:53)
7) No Limits (4:34)
8) Highway 10 (4:23)
9) Monday Swagger (3:58)
10) Room For 2 (feat. Lin Rountree) (4:28)
11) Don't Stop Believing (3:14)
12) A M G Power (4:14)
13) Closer To You (feat. Chris Davis) (5:04)
14) Postlude - From The Heart (1:39)