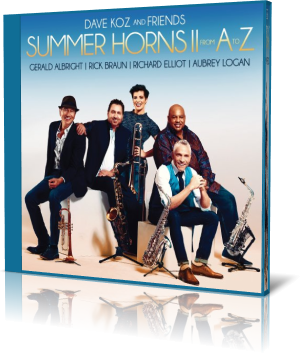 Overcoming massive scheduling problems, saxophonist and entertainer Dave Koz has again managed to win some of the best musicians for his Summer Horns project. His new dream team consists of trumpet player Rick Braun, saxophonists Gerald Albright and Richard Elliot as well as trombonist and singer Aubrey Logan, a featured artist for Postmodern Jukebox.
Greg Adams, Tom Scott and Gordon Goodwin, who also arranged the previous album, are on this recordings again. Featured artists are singer Kenny Lattimore and Sheléa Frazier, Jonathan Butler and Gloria Estefan. The press release also mentions a rhythm arrangement by Chris "Big Dog" Davis.
Summer Horns II From A To Z is based on the same principle as the previous album. Selected songs that have passed the test of time and yet remain in lasting memory. The common denominator of all songs is a horn arrangement that qualified the piece for inclusion on the album. Cross-genre, dynamic and with a certain pep.
The famous group Earth, Wind & Fire is best known for enthralling horn arrangements influencing thousands of horn players world wide and cross-generational. Getaway is their showpiece that makes every horn player's mouth water. Building on the original arrangement the group generates in their interpretation a place for every solo interpret. In addition the group presents a combination with KC and the Sunshine Band's That's The Way (I Like It) to rise the party level.
More Today Than Yesterday by Pat Upton and performed by Spiral Starecase was covered by Diana Ross and Chicago. The latter may have inspired Dave Koz to add this horn driven version with a great chorus line. Keep That Same Old Feeling created by late trombonist Wayne Henderson and performed by his group The Crusaders is newly arranged by Greg Adams (East Bay Soul) and Rick Braun.
From A To Z (Take The "A" Train / Roc Boys (And The Winner Is) is a medley of Take The "A" Train by Billy Strayhorn made famous by Duke Ellington and Jay-Z's "Roc Boys (And the Winner Is)." Hence the A to Z. A further prove of nothing is impossible as long it sounds good. This Will Be (An Everlasting Love) was a hit of the never be forgotten Natalie Cole in 1975. Kenny Lattimore and Sheléa gives the song a fresh rebirth in a stunning duet well supported by the horns brilliantly arranged by Tom Scott.
Before I Let Go featured in the original Frankie Beverly and the group Maze. The song is completely transcribed to a horn arrangement featuring the formation in Toto and as soloists. Paul Simon's Late in the Evening, from the 1980 album One-Trick Pony is remodeled by Jonathan Butler to a song with South African heritage now better be placed on Simon's album Graceland.
Summer Horns transform Stevie Wonders' If You Really Love Me (1971) to an Earth, Wind & Fire experience with a smooth bridge by Rick Braun on muted trumpet. Gloria Estefan became famous with her group Miami Sound Machine and the hit Conga (1985). Singer and trombonist Aubrey Logan is featured as lead vocalist, while Gloria delivered surprisingly the second voice after a phone contact by her friend Dave Koz.
Michael Jackson's critical and social conscious Earth Song has an emotional message. The dramatic of the melody outlasts in the terrific rendition. Bobby Troup's popular song Route 66 became a hit through Nat King Cole's version in 1946. Aubrey Logan skillfully manages the balancing act between excessive effervescence and insane virtuosity that goes seamlessly into genius.
Summer Horns II From A To Z is an adventure path through timeless melodies that return to enduring liveliness through the bravura of their interpreters and arrangers.




Buy the album in all stores

Album Information

Title: Summer Horns II From A To Z
Artist: Dave Koz And Friends
Year: 2018
Genre: General Jazz
Label: Concord Music Group

Tracks:

1. Getaway / That's The Way (I Like It) 4:28
2. More Today Than Yesterday 5:05
3. Keep That Same Old Feeling 4:50
4. From A To Z (Take The "A" Train / Roc Boys (And The Winner Is) 5:28
5. This Will Be (An Everlasting Love) featuring Kenny Lattimore and Sheléa Frazier 4:10
6. Before I Let Go 4:54
7. Late In The Evening featuring Jonathan Butler 5:09
8. If You Really Love Me 4:43
9. Conga featuring Aubrey Logan and Gloria Estefan 4:44
10. Earth Song 5:58
11. Route 66 featuring Aubrey Logan 5:19