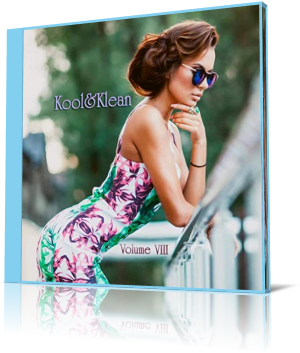 Germany based multi-instrumentalist Konstantin Klashtorni has already released a plethora of album series. The Kool&Klean series is undoubtedly one of the most popular. Not only the groovy music is attractive, but also the extremely pretty women depicted on the covers.
Starting with the infectious Kool&Klean Volume I in 2010, followed by Volume II (2011), Volume III (2012), Volume IV (2014), Volume V (2014), Volume VI (2016), Volume VII (2017), we now reached Volume VIII in 2018.
If one listens to Islands Of Tranquility, one easily gets into raptures. Then attributes such as dreamlike, picturesque or beautiful will easily come to your mind. Again Konstantin is able to create the highest degree of harmony with his proven concept.
Sublime You is a form of expression you rarely encounter. Rather, one meets Klashtorni's overwhelming ode to the opposite sex. Worshiping a woman is also a rare variety of adoration. So Divine is dedicated to the beauty of women. The melody of Morning Mist repeats itself stubbornly as a fog lasts over the day.
Mellow Moments aptly describes the wavering theme which is far away from a sonic wallpaper because the sweetness of the melody still grabs your attention. The acoustic guitar alternates carefully with the keyboard sounds. Kiss & Dance has some Art of Noise flavor without any disturbing edges.
The title Curiosities awakens expectations that dissolve into pleasing moody harmonies. On many pieces of music, such as Meant to Be, Konstantin picks up a theme that he explores with different instruments such as saxophone and piano. The rhythm runs smoothly without developing own moments. For Konstantin the mood is more important than virtuoso acrobatics.
I Breathe You has that certain catchy momentum that stick in the listeners head. Everything finely dosed and arranged. Dreamscape is designed for relaxation and fantasizing. Konstantin carefully extends the melody cup from instrument to instrument, from one timbre to another.
Endless makes different sounds like waves push against the ear of the inclined listener. The sound carpet puts you into an almost hypnotic trance state. Like Clouds Drifting By Konstantin conveys the semblance of slight arbitrariness. A Summer Walk has little of the sultriness or heat of too hot summer, on the contrary everything runs in a sense of well-being of lightness.
Konstantin Klashtorni takes us on his own journey with Kool&Klean - Volume VIII. He claims his space as great cook of light sounds that makes us forget the hardships of everyday life.





Buy the album in all stores

Album Information

Title: Volume VIII
Artist: Kool&Klean
Year: 2019
Length: 56:46
Genre: Smooth Jazz
Label: Kvk Music


Tracks:

1 Islands in Tranquility 5:05
2 Sublime You 5:05
3 So Divine 4:43
4 Morning Mist 5:00
5 Mellow Moments 4:59
6 Kiss & Dance 4:43
7 Curiosities 4:38
8 Meant to Be 4:55
9 I Breathe You 4:23
10 Dreamscape 5:16
11 Endless 5:08
12 Clouds Drifting By 4:54
13 A Summer Walk 3:53