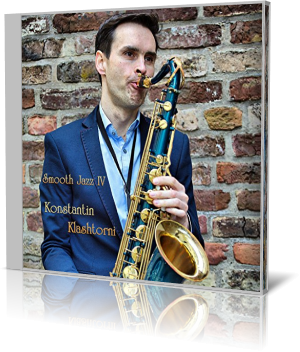 Multi-instrumentalist Konstantin Klashtorni is known by his projects Kool & Klean, Chillaxing Jazz Kollektion, Love Suggestions and Smooth Jazz. His newest album of the latter is Smooth Jazz IV (2017).
The front photo indicates Konstantin's musical main weight, the saxophone. In order to avoid a false impression, Konstantin plays all his instruments himself, composes all the pieces and produces them. Releasing more than 30 tracks each year makes him to the most productive artist of the smooth jazz scene.
Listening to the first track If I Told You immediately comes Grover Washington's The Two Of Us into mind. The soul searing beauty of the melody can compete with the great inspiration. With Hills and Valleys Konstantin not only presents a catchy melody but also invests time and efforts in a sophisticated rhythmic background.
On I Feel It Coming arrangement and composition have reached a high degree of artistry. Horns and piano are interwoven to form a highly complex musical whole of extreme smartness. Everywhere I Go is comparable with music by Gerald Albright or Richard Elliot: the sax in the center of interest with great overdub effects.
Give Me Your Eyes fuels the groove with a saxy intensity reinventing the smooth jazz idea on a higher level. I Need You relies on the shuffle principle with flute as dialogue partner and piano as instrumental main speaker in interchange with guitar all in a conceptual natural flow. Slowing down the pace to a romantic mood You Look Good is not only an acoustic compliment for the listener.
Moondance smiles with guitar, sax and a wonderful synth tapestry of ambient finesse. Find Your Wings is a clap along song in the best sense. For which the rhythm offers the occasion, the melody provides the argumentative underpinnings. Made a Way is the follow up in the same style and fire to touch your heart.
There are musicians in the search for the ultimate harmony and there are artists like Konstantin Klashtorni who realize melodious perfection again and again with effortless ease. Smooth Jazz IV is a sonic power package of juvenile freshness.