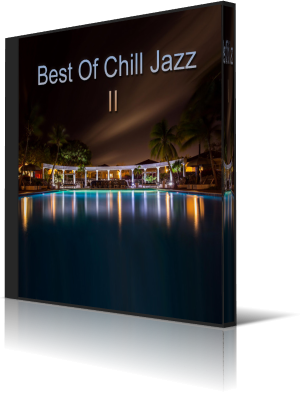 Multi-instrumentalist and producer Konstantin Klashtorni is one of the most popular musicians in the field of smooth jazz on CDBaby. Browsing the list of top sellers you will certainly find most of his albums there. He is known by his projects Kool&Klean, Chillaxing Jazz Kollektion, Love Suggestions, eJazz Artistry and Smooth Jazz. Now he has released two compilations packed with the best pieces in his opinion: Best Of Chill Jazz I and II (2019).
The collection is for download only. This has the advantage that you can pick the best raisins. This review will serve as a small guide. Blue Water (Chillaxing Jazz Kollektion) greets to Paul Hardcastle with a musical twinkle. Heaven must be in Konstantin's mind, when he composed Angel (eJazz Artistry). In the land of rhythm and groove Konstantin has found his own sound garden to care.
Beautiful Surprise is the last song of the album Kool&Klean Vol. 4 with the same intoxicating and bouncy melody as its predecessors. How Will I Know (eJazz Artistry) comes with a relaxed swing full of warm rich tones.
Guessing Game (Kool&Klean) is a game in which much of the playing consists of guessing or a situation involving uncertainty over another's actions or the outcome of something. Evolution is for example the guessing game of life. The tune however is a well-thought-out arrangement.
Dreamcatcher (Chillaxing Jazz Kollektion) allures with ambient synth sound enriched with a great variety of other instruments. Humble and Kind (Smooth Jazz III) shines with fine sax and flute textures. A gorgeous melody digs into your ear canals. Titles like Butterfly Kisses (Chillaxing Jazz Kollektion) reveal Konstantin's vivid imagination, which internalizes the sound world of his instruments.
When cupid hits with his arrow, man looks at a woman and is flashed by her attractive appearance. This magic moment is captured by the mellow instrumental ballade I Look To You (Kool&Klean). The Key Of Sea (Chillaxing Jazz Kollektion) opens the world to the great ocean filled with wonderful melodies.
Dream Weaver (Kool&Klean) revels in acoustic wellbeing of fine sounds. Klashtorni opens the album Groove Jazz N Chill #3 with Have Your Way, a reverie with crystal clear sounds and acoustic guitar in the lead. The magic isn't born by chance. Musical gems like My Favorite Things (Chillaxing Jazz Kollektion) are the result of hard composing work.
The Way You Look Tonight (Kool&Klean) ties together a myriad of sounds of Konstantin's UA library. Nice and Easy (Smooth Jazz II) continues this mellow and saxy loveliness which is accompanied with fine percussion elements. Kiss The Rain (Kool&Klean) shines with a solid acoustic guitar sound wrapped by waves of synth.
Imagine a place on the beach with the ocean always in front of your eyes. On Ocean Eyes (Kool&Klean) onomatopoeic syllables are replacing the waves of ocean. Melancholy waves over The Fall from the same album, soprano sax meets synth sounds.
There are still supposed to be newcomers who are not yet familiar with Konstantin Klashtorni's music. For them and those who are still undecided, Best Of Chill Jazz I and II offer a fantastic overview of the ingenious oeuvre of this smooth jazz giant.





Buy the album in all stores



Album Information



Title: Best Of Chill Jazz II
Artist: Konstantin Klashtorni
Year: 2019
Genre: Smooth Jazz
Label: Independent

Tracks:

1. Blue Water (Chillaxing Jazz Kollektion) 4:00
2. Angel (eJazz Artistry) 4:41
3. Beautiful Surprise (Kool&Klean) 4:25
4. How Will I Know (eJazz Artistry) 4:24
5. Guessing Game (Kool&Klean) 4:17
6. Dreamcatcher (Chillaxing Jazz Kollektion) 5:20
7. Humble and Kind (Konstantin Klashtorni) 4:07
8. Butterfly Kisses (Chillaxing Jazz Kollektion) 5:10
9. I Look to You (Kool&Klean) 4:52
10. Key of Sea (Chillaxing Jazz Kollektion) 5:18
11. Dream Weaver (Kool&Klean) 4:56
12. Have Your Way (Chillaxing Jazz Kollektion) 5:17
13. My Favorite Things (Chillaxing Jazz Kollektion) 4:45
14. The Way You Look Tonight (Kool&Klean) 5:06
15. Nice and Easy (Konstantin Klashtorni) 5:12
16. Kiss the Rain (Kool&Klean) 4:52
17. Sentimental Things (Chillaxing Jazz Kollektion) 5:15
18. Ocean Eyes (Kool&Klean) 4:13
19. The Fall (Kool&Klean) 4:39