| | |
| --- | --- |
| Archive | |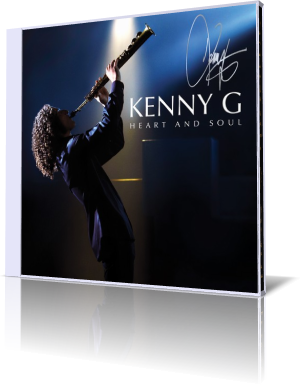 Kenneth Bruce Gorelick better known as Kenny G is certainly the most successful smooth jazz musician in music history. The Grammy awarded musician sold more than 50 millions albums only in the USA. Originally a member of The Jeff Lorber Fusion he started his solo career in 1982. His album Breathless (1992) sold over 15 millions copies, his album Miracles (1994) 13 million copies. For a complete summary of his discography visit Wikipedia.
What made Kenny G so phenomenally successful? At that time the smooth jazz format was very popular and Kenny G was the icon, pillar and sign of nearly every smooth jazz radio station. Time has changed. Some of the largest broadcast groups, especially Clear Channel and Arbitron, made the decision to dump smooth jazz in all markets. The audience has aged and younger people prefer other formats.
The term smooth jazz was always besieged by jazz purists like a barricade of wagons and Kenny G was entitled as regent of the smoothiverse. But Kenny G is still the most popular artist, the smooth jazz genre has ever seen. The release of a new Kenny G album is a highlight of the year and generates greatest attention.
Kenny's 13th studio album Heart And Soul is scheduled for release on June 29th at Concord Records. The album is produced by Walter Afanasieff, who counts Whitney Houston, Celine Dion, and Mariah Carey to his clients, and by Kenny G himself. So await smooth jazz with an Urban/AC twist. Further artists on this album are Kenny "Babyface" Edmonds (No Place Like Home) and Robin Thicke (Fall Again).
Heart And Soul is the essence of Kenny's music, melodious, hooking and touching. Underlayed with Afanasieff's Urban beat and backed by Jorge Callandreli's orchestra Kenny G's soprano sax shines with a strong intensity. The oriental magic of Déjà Vu conjures images of strange places like Marrakesh's Djemaa el Fna, a square crowded by acrobats, story-tellers, water sellers, dancers, and musicians.
First highlight of this album is Robin Thicke's Fall Again. Robin composed the song for Michael Jackson's Invincible album (2001). But unfortunately the song never got finished for that album, so the MJ version was released on the Ultimate album. Kenny G's decision to release this song on his album interpreted by Robin himself shows his good nose for great melodies and superb artists.
Walking on the path of romance Letters From Home is written for all those romantics out there. By The way Max G's awesome guitar really deserves more space. The Promise demonstrates Kenny's remarkable talent to paint with some simple notes a melody, but reaching exactly the heart of audience.
I remember the time, when Kenny "Babyface" Edmonds presented some more edgy songs. On No Place Like Home he definitely illustrates the mellow sweetness of his vocals. The soprano sax is Kenny G's hallmark of good quality. Most of the songs on this album like My Devotion are performed with this instrument. But the pristine tone of this instrument cannot substitute variety, which I miss a little.
G'Walking is a step away of the previous ballades. Kenny G's formidable talent glows in breathtaking crescendos. The title Sunrise perfectly describes the mood of the next song. Glittering like the sunrays the breathy performance is the sign of Kenny's return to the places of old success.
One Breath more? Another ballade in Kenny's own impeccably performed and produced style. Here you can listen to the full sound of a real orchestra. Kenny G plays tenor sax accompanied by Walter Afanasieff on Hammond B3? Really, the up-tempo Encore revels another side of Kenny's ability. With After Hours Kenny G invites us for a last dance in his paradise,
Heart And Soul is fine art of the most famous saxophonist. The album was produced and performed with great passion by a team of high professionals. That makes Kenny G to a soulful musician loved by a legion of fans.





Buy the album in all stores



Album Information



Title: Heart And Soul
Artist: Kenny G
Year: 2010
Length: 0:56:37
Genre: General Jazz
Label: Concord Records


Tracks:

01 Heart And Soul [4:36]
02 Déjà Vu [5:01]
03 Fall Again [4:15]
04 Letters From Home [3:57]
05 The Promise [5:14]
06 No Place Like Home [3:57]
07 My Devotion [5:17]
08 G-Walkin' [6:10]
09 Sunrise [5:26]
10 One Breath [3:32]
11 Encore [3:49]
12 After Hours [5:21]