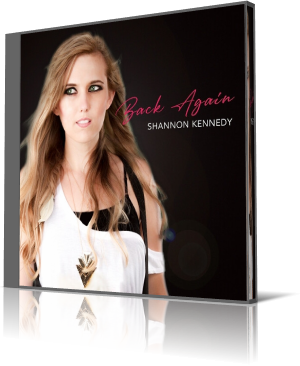 Southern California based Shannon Kennedy is an ambitious linguist but a passionate singer and saxophonist. Her wide-ranging talent has been reflected in numerous projects. As singer she has released the albums Only One (2011) and Behind Your Eyes (2012). With guitarist U-Nam she furthermore collaborated on the projects K.A.S.E. 87, Nivo Deux and Groove Ltd.
As saxophonist she released Angel Eyes (2005), Steppin Up and Never My Love (2007). Her new album is Back Again (2019). She invited guest musicians Peter White, Kat Dyson, Chieli Minucci (guitar), Jordan West, Kurt Hamernick (drums), and Jeff Carlson (bass).
Something by the group Girl's Day is the introduction to Shannon's new album. Girl's Day was a popular South Korean girl band founded in 2010. The appealing melody is realized by Shannon polyphonic and in modern style. Peter White with his acoustic guitar is responsible for the Spanish coloring.
Shannon's distinct compositional talent shows on her first own piece Midnight Express accompanied by Jordan West's powerful drumbeats. The title song convinces with powerful energy and conclusive concept. Saxes in multi-layers combined with a thrilling keyboard motif are the bangers.
Shannon does not disregard this successful formula for the following aptly titled piece Attention. The original was written and recorded by singer Charlie Puth in 2018. With its deep bass and the wah-wah guitar Letting Me Go has some melancholic traits. Shannon can act very emotionally with her saxophone.
On Tell It Like It Is Shannon is blowing anew infectiously with great verve and a keen sense of drama. Ocean Drive is a street in South Beach, the southern part of Miami Beach, Florida. It is known for its Art Deco hotels and is the subject of numerous songs. In this case the template is a song by British DJ and record producer Duke Dumont, and featuring vocals by Boy Matthew. Shannon's synthesizer emphasized version reminds me of the music of Orchestral Maneuvers in The Dark.

What I will remember from the song Mad, Crazy Love is the heavy beat/bass and Chieli Minucci's furious ride on guitar. She cannot resist temptation. Where Is the Love is Shannon's vocal contribution. Rolling in the Deep was Adele's fulminant crossover hit in 2010 selling more than 20 millions copies worldwide. Shannon's rendition creeps into the pulse of the borderline rupture of this song.

With Back Again Shannon Kennedy offers a balanced collection of own compositions and exquisite covers. She successfully continues her earlier work and consolidates her position as a recognized saxophonist in the smooth jazz genre.





Buy the album in all stores

Album Information

Title: Back Again
Artist: Shannon Kennedy
Year: 2019
Genre: Smooth Jazz
Label: Independent

Tracks:

1 Something 4:19
2 Midnight Express 5:02
3 Back Again 4:15
4 Attention 3:49
5 Letting Me Go 3:48
6 Tell It Like It Is 4:11
7 Ocean Drive 3:28
8 Mad, Crazy Love 5:24
9 Where Is the Love 4:05
10 Rolling in the Deep 5:11