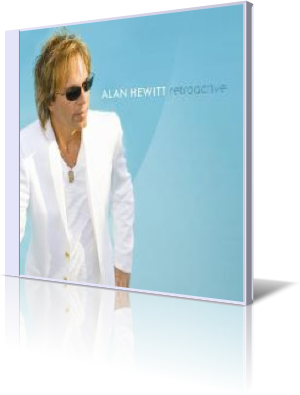 Visiting Alan Hewitt's new website is a spectacular pleasure. The same is to say about his new album Retroactive, which is just released in January 2010. The first single of the album Shaft is already in heavy rotation on many Internet radio stations. Alan Hewitt's footprints are inestimable in music industry. He worked with Maurice White (Earth, Wind & Fire), Donny Osmond and other artists.
He started his solo career with Noche de Pasion (2004), followed by his critically acclaimed 2006 release Metropolis. On his third album Retroactive (2010) he presents artists like Greg Adams (Tower of Power), Paul Jackson, Jr., Steve Madaio (Stevie Wonder) and Steve Oliver.
Isaac Hayes' soulful and funky theme song to the Metro-Goldwyn-Mayer film Shaft (1971), is reactivated by Alan Hewitt as instrumental piano driven version. "Alan has the golden touch. This single reminds me of the killer sound that defined the airwaves of the 70s. I think there is a real movement in music to return to the mother groove of R&B," enthuses David Checkler, CEO of nuGroove Records. A perfect introduction to Alan's new endeavor.
When you search the retro feeling of good old funk time, then listen to the introducing pulse of All For You. Beyond the grooving beat Alan expands his glorious piano and keyboards reverie with a formidable affinity for sound details. Gerald Spikes on tenor sax accompanies Alan on this path to the final groove.
The title song allures with a hooking melody featuring Steve Madaio on muted trumpet and Brian Price on guitars. Fabulous Alan Hewitt's solo on Hammond B3 creating that tension for what the title stands. Nassau Blu corresponds perfectly with the artwork of this CD, by the way Alan really looks like David Crockett, the main figure of the Miami Vice TV serial. Tower of Power legend Greg Adams is the ultimate trumpet star on this tune.
In 1969 Sly & the Family Stone recorded Hot Fun in the Summertime. This former hit is modeled by sweet songstress Shea Chambers. Her performance on the title track, Endless Love, written and produced by Lionel Richie, gave her national acclaim in the recording industry. She is also the featured vocalist on Alan's previous albums Noche de Pasion and Metropolis.
In The Works has an acid jazz attitude with Alan Hewitt on vibes following Roy Ayer's path. Steve Madaio shines on trumpet well supported by saxophonist Will Donato and trombone player Steve Clark, together they are the Desert Horn Storm. The great collaboration between this horn section and pianist Alan Hewitt is evocatively audible on Saturday Afternoon. While Alan paints the melody line, they add a colorful horn soundscape.
Amagine That is a prove of work for Alan Hewitt, the multi-instrumentalist, the composer and arranger. There is no doubt, that he masters all tasks with a graceful ease. With Big Bang Alan and his band fires up the tempo. Brian Price treats his guitar like a rock hero. The chemical formula of water, H2O, is the final title of this awesome album. Special guest is the fantastic guitarist Steve Oliver, I had the pleasure to see in Munich last year.
Alan Hewitt's album Retroactive is a musical delicacy. Luxurious, sensitive, top notch quality, a truly satisfying music.








Buy the album in all stores



Album Information

Title: Retroactive
Artist: Alan Hewitt
Year: 2010
Length: 0:42:28
Genre: General Jazz
Label: Nu Groove


Tracks:

01 Shaft [3:49]
02 All For You [4:38]
03 Retroactive [3:53]
04 Nassau Blu [3:53]
05 Hot Fun in the Summertime [4:48]
06 In The Works [4:43]
07 Saturday Afternoon [3:29]
08 Amagine That [4:57]
09 Big Bang [4:10]
10 H2O [4:08]