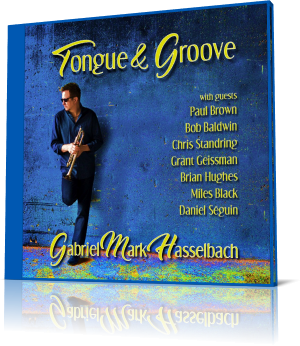 While Denver Colorado born trumpeter Gabriel Mark Hasselbach's album Open Invitation (2014) is settled in the smooth jazz genre, his albums MidCentury Modern Volume 1 (2018) and MidCentury Modern Volume 2 (2019) are walking the jazz way. With Tongue & Groove (2021) Gabriel Mark returns to the smooth jazz realm again.

He explains the title as follows: "The title is at minimum a double entendre. In woodworking, tongue and groove refers to interlocking, smooth and seamless assembly or construction, and trumpeters tongue their notes, and in my case, also nail the groove."

Gabriel performs on the new album flugelhorn, trumpet, flutes, and percussion. Mainstay are Daniel Seguin (alto and tenor sax, keys, bass, drum programming), Tony Moore (drums) and Tony Seville (percussion). Further guest musicians on selected tracks are Bob Baldwin (keys, programming), Paul Brown (guitar), Brian Hughes (guitar), Chris Standring (guitar), Grant Geissman (guitar), Miles Black (piano, organ, bass), Rossi Tzonkov (electric bass), Kat Hendricks (drums), and Jeffrey Holl (guitar, keys).
The opener Presence of Mind radiates calmness in its clear melodic composition. This is quite intentional, for Hasselbach understands his music as an aid to maintaining calm and inner balance even in the midst of the pandemic.
When Gabriel and Bob Baldwin work together, their shared chemistry sizzles. Chill@will is an ingenious blast of groove. Heading North featuring guitarist Paul Brown has some of the pioneering spirit of the early founding years.
Hang on to Your Love was Sade's first single of her debut album Diamond Life (1984). Gabriel has given his interpretation an energy bar that makes it highly enjoyable. Hasselbach also gives Chuck Mangione's Feels So Good a modern touch, and he doesn't miss the opportunity to invite Grant Geissman, the guitarist of the original recording.
Show Me Another Way is a title which does not necessarily apply to Gabriel. Instead it's a demonstration of his major trumpet skills. Normally is in a Litmus Test a single factor decisive. Deviating from this principle, the two gifted horn players Hasselbach and Daniel Seguin meet on this song, who delivers a suitable answer on the sax to every trumpet phrase.
Gabriel transfers Clifford Brown's Daahoud to the perfect smooth jazz environment. Chris Standring adds another hue to the mix on guitar. So completely Gabriel can not leave jazz, so he gets into Slipstream Turbulence.
Vanishing Summer brings your memories back filled with heart and soul. Wistfulness should not arise with this beautiful melody. At least one love song belongs on the album. The buoyant You Will Always Be the One perfectly fills this gap.
Chill@will [Raincoast Mix] delivers an apt alternative as a remix variant, which makes the choice difficult for us radio people. Finally, Gabriel treats us to a long version of Feels So Good.
Gabriel Mark Hasselbach has proven himself with Tongue & Groove that he is among the elite of smooth jazz trumpet players. Music that you do not forget so quickly.




Buy the album in all stores

Album Information

Title: Tongue & Groove
Artist: Gabriel Mark Hasselbach
Year: 2021
Genre: Jazz
Label: Windtunnel Music

Tracks:

1) Presence of Mind (Feat. Daniel Séguin) (4:35)
2) Chill@will (Feat. Bob Baldwin) (4:25)
3) Heading North (Feat. Paul Brown) (4:40)
4) Hang on to Your Love (4:35)
5) Feels So Good (Feat. Grant Geissman) (4:34)
6) Show Me Another Way (4:41)
7) Litmus Test (Feat. Daniel Séguin) (4:33)
8) Daahoud (Feat. Chris Standring) (4:24)
9) Slipstream Turbulence (Feat. Brian Hughes) (5:10)
10) Vanishing Summer (4:13)
11) You Will Always Be the One (4:47)
12) Chill@will [Raincoast Mix] (Feat. Bob Baldwin) (4:25)
13) Feels So Good (Feat. Miles Black & Grant Geissman) (7:35)