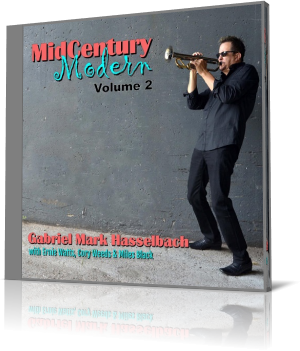 Denver Colorado born trumpeter Gabriel Mark Hasselbach's album Open Invitation (2014) is known as one of his latest smooth jazz album. His album MidCentury Modern Volume 1 (2018) shows Gabriel's affinity for the classic jazz genre. With MidCentury Modern Volume 2 (2019) he continues this way.

The line-up of the new album differs only slightly from its predecessor. Miles Black (piano, organ, bass), Laurence Mollerup (acoustic bass), Joel Fountain (drums) and Olaf DeShield (guitar) played already on Volume I, new to it are Cory Weeds and Ernie Watts (sax), furthermore Cord Lemon (electric bass) on selected tracks.

Superblue is very melodious, even if the attitude is jazzy. Gabriel expands his trumpet performance on a swinging rhythm, while Miles Black just sets accents with tasteful piano chords. In the middle of the theme he unchains to a larger piano solo with different rhythm background.

With Driftin' Gabriel steps into another groove of untainted jazz joined by Cory Weeds on saxophone. The title Mamacita indicates a Latin swing but the tune turns out to be influenced by Herbie Hancock's song Cantaloupe Island.

Jazz 'n Samba is more jazz than samba compared to Scott Wilkie's Brasil, I recently reviewed. Chick's Tune features saxophonist Ernie Watts who lives the jazz in extensive improvisations. On Blue Soul Gabriel swings with his muted trumpet jazz in the traditional sense satisfying the jazz purists who are always searching for new stuff.

Nature Boy was already released on Gabriel's album MidCentury Modern Volume 1 as vocal track featuring singer Mike Taylor. Originally recorded by Nat King Cole in 1948 Gabriel now delivers the instrumental take. Sister Sadie was originally released by the Horace Silver Quintet in 1959. Gabriel's rendition lowers the tempo slightly whereas Gabriel renounces the saxophonist in favor of the overdub procedure.

Duke Ellington composed in 1953 the song I'm Gonna Go Fishin', while singer Peggy Lee wrote the lyrics. A jazz standard covered by Mel Tormé, Ella Fitzgerald and numerous interprets. Gabriel delivers an instrumental version with Miles Black on vintage organ.
Gabriel Mark Hasselbach has the jazz in blood. After MidCentury Modern Volume 2 there is no need for any further evidence.




Buy the album in all stores

Album Information

Title: MidCentury Modern Volume 2
Artist: Gabriel Mark Hasselbach
Year: 2019
Genre: Jazz
Label: Windtunnel Records

Tracks:

1 Superblue (feat. Miles Black) 7:37
2 Driftin' (feat. Cory Weeds) 7:35
3 Mamacita 5:53
4 Jazz 'n Samba 4:42
5 Chick's Tune (feat. Ernie Watts) 7:59
6 Blue Soul 7:59
7 Nature Boy 5:18
8 Sister Sadie 5:27
9 I'm Gonna Go Fishin' 6:51
10 Superblue (Radio Mix) 3:56