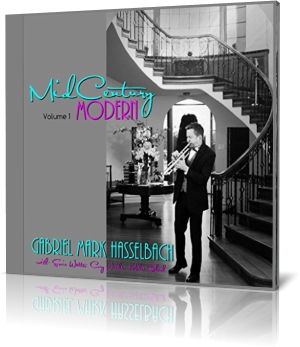 Denver Colorado born trumpeter Gabriel Mark Hasselbach was last time in our focus with his album Open Invitation (2014). His new album MidCentury Modern Volume 1 (2018) is of a special peculiarity. Although a guarantor of smooth jazz Gabriel now delivers a jazz album.
Gabriel comments: "This is an exciting project for me because I was finally able to assemble my dream team. Besides the recognizable and prolific talents of saxophonists Ernie Watts and Cory Weeds, I was able to gather my longtime friends and world-class musicians Miles Black (piano), Laurence Mollerup (bass), and Joel Fountain (drums). Adding to the proceedings are Mike Taylor (vocals) and Olaf deShield (guitar) on a couple of tunes."
The album starts with Mississippi Jump presenting Hasselbach in best form on trumpet, apparently fluent in style. Miles Black adds on piano a perfect accompaniment and a shining solo work. Jazz trumpeter Freddie Hubbard released the track Gibraltar as part of his album Born To Be Blue in 1981. Hasselbach delivers a compact version without missing important elements of the original.
Nature Boy is a jazz standard first recorded by Nat King Cole in 1948 and later covered countless times. This version features singer Mike Taylor, touted as Vancouver's answer to Gregory Porter. Blues On My Mind is a mainstream bop piece by jazz trumpeter Blue Mitchel composed by saxophonist Benny Golson for the album Out Of The Blue (1959). While Hasselbach takes over Mitchel's part saxophonist Cory Weeds plays the sax.
So What is the first track on the 1959 album Kind of Blue by American trumpeter Miles Davis. So What ... Now? is Hasselbach's answer, a welcome revisit of the historic songbook. Terra Firma Irma was originally released by bop-oriented trumpeter Joe Gordon on his album Looking Good (1961). Hasselbach keeps the flag high of this fine bop standard. UberSmooth was originally released by Gabriel Mark Hasselbach on his album Gabriel's Horns (2003). In his collection Sweet And Saxy the track is also represented and finally appears on this album.
Comin' Home for Mardi Gras is Gabriel's tribute to the Mardi Gras in New Orleans. He recently presented this song at the New Orleans Jazz Museum. Final track of the album is a radio edited version of Mississippi Jump.
MidCentury Modern Volume 1 is Gabriel Mark Hasselbach's straight ahead jazz side. He is deep in the mix of all that jazz and he keeps the jazz real.




Buy the album in all stores

Album Information

Title: MidCentury Modern Volume 1
Artist: Gabriel Mark Hasselbach
Year: 2018
Genre: Jazz
Label: Windtunnel Records

Tracks:

1 Mississippi Jump 05:07
2 Gibraltar(feat Miles Black) 05:36
3 Nature Boy (feat. Mike Taylor) 05:17
4 Blues On My Mind (feat. Cory Weeds) 07:14
5 So What ... Now? 05:36
6 Terra Firma Irma (feat. Ernie Watts) 09:07
7 UberSmooth 04:10
8 Comin' Home for Mardi Gras (Gabriel vocal) 04:57
9 Mississippi Jump (radio edit) 04:18