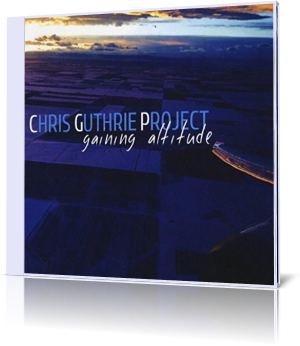 Seattle pianist Chris Guthrie honed his skills in different formations. He performed as a guitarist in a jazz big band (Cal. State Hayward) and in a jazz/blues trio (T. Lane and the Nitehawks), and most recently played keyboards in an alternative rock band (Fred Roth Revue).
The Chris Guthrie Project is a collaboration with longtime friend Steve Oliver. The result is Chris' debut album Gaining Altitude (2017). Chris plays on this album piano and keyboards. Steve Oliver guitar, guitar synth, bass, drums, percussion, and vocals. Both wrote all songs. Steve produced, recorded and mixed the album at Westie World Studios.
The duo has put the main emphasis of the title song on the optimal creation of atmosphere out of a minimum of tonal sequences. The beauty arises from the lovingly designed details. Bombi's Bounce reveals a special affinity for the early Pat Metheny Group, specified on the keyboard creations of Lyle Mays.
Soledad is surrounded by that intelligent, sophisticated and magical aura of world music that we particularly love about Steve Oliver's music. Danger Cat draws its power from the fast paced parts in contrast to the slow meditative dreamy section. Oliver heats the song with Latin flavored guitar and drum beats.
When You Speak Softly appeals with the inner peace that comes from composure and knowledge of one's own ability. The group saves with notes, but they achieve their effect with intensive force. The aptly titled song Feelin' Snappy doesn't hide the Latin flair. What Time Remains is introverted and calls for reflection. The main focus is on constructive thoughtfulness.
Good Old Mac is a tribute to the Mac, as the title implies. Many musicians use this machine for their creative artwork. Indeed the Mac is Chris' first choice of creation and at the same time the target of his creative process. That's called killing two birds with one stone. Jeux D'or are the French words for Golden Games. A contemplative swinging piece that smiles at you. Elysium is a section of the Underworld in Greek mythology. Commonly it is also known as an island of the blessed. The duo is exploring the realm of the New Age with this piece.
If you can win a musical partner like the shrewd multi-instrumentalist Steve Oliver, you're already half way to a good show. However, Chris Guthrie has brought in his own genius on Gaining Altitude and that way his debut album is more than successful.