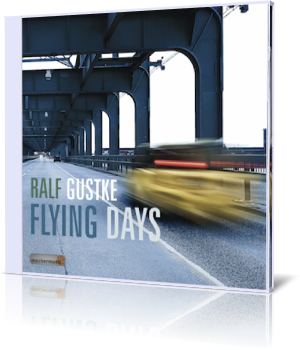 Drummer Ralf Gustke has already performed with Chaka Khan, Wolf Maahn, Edo Zanki, Gianna Nannini, Georg Danzer, Nena, Schiller, Daniel Wirtz, Söhne Mannheims and Xavier Naidoo, for many of them also as a musical director. His credits are in the liner notes of more than 150 CDs and DVDs. He has played a key role in shaping the style of contemporary jazz, especially in Germany.
Flying Days (2017) is his debut album. Ralf performs on his album drums, congas & percussion, samples, loops & beats. Additional musicians are Joo Kraus (trumpet and flugelhorn), Jesse Milliner (synthesizers, Rhodes, and piano), Claus Fischer (bass and guitar solo on Little Things). Guest musician is Joerg Dudys on guitar.
Gustke introduces in his project with Indian Summer, a piece of music in which he lives out his creative spectrum as a drummer. The tune has various facets of contemporary jazz with elements comparable to Pat Metheny's early period, improvisations beyond the border to free jazz and quiet melodious phases.
Characteristic for this project are extended solos of all participating musicians, that stand not on their own but promote the overall context of the piece. To mention on Two are Joo Kraus' ambient trumpet excursion, Jesse Milliner's short synth jubilation and Claus Fischer's in depth going bass line.
The organ and horn driven Flying Days is propelled by Gustke's fast paced drum creation. Rainy Sunday is accentuated by a punchy reggae rhythm with sunny string underlined moments in between. Joo Kraus influences the tune with his moody trumpet. Apollo starts with a drum roll on snare and quickly becomes something indescribably big that reflects the diversity and creativity of the drummer Gustke while Milliner is indulging in a synth staccato in style of Alan Parson's Project.
There are many tour de force pieces on this album. Six is Nine is no exception. While Gustke plays the soul out here, Milliner excels like Joe Zawinul during his best time. Guadaloop is a word creation of Guadeloupe and loop and that way it comes over acoustically. The funky Dangerous Times walks the tightrope between contemporary jazz and artistic avant-garde.
With reduced pace All In One brings some reverie into performance as far as it's possible in a jazzy heated atmosphere. In all segments musicality and scintillating play push the musicians into the virtuoso areas. With Little Things the album receives a contemplative final point. A slow melodic tune with a waltz swing.
Of course you will discover many influences of jazz history on Flying Days. However, Ralf Gustke and his men are sophisticated musicians and so they succeed in overcoming traditional forms and styles. This album is something previously unheard.