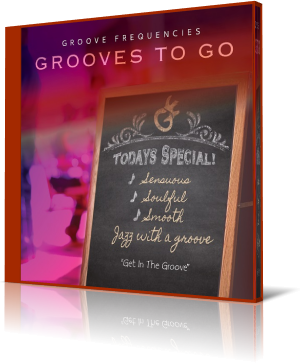 Groove Frequencies is a project by bassist, keyboardist and writer Johnny E. Stewart. After In The Groove (2017), Groove Frequencies (2018), Back To The Groove (2019), the fourth project is Grooves To Go (2021).
Johnny E. Stewart (bass, tenor bass, synth bass, keyboards), Jimmy Reid (sax), Eddie Baccus Jr. (sax), Clay Benjamin (guitar), Parris Spivey (guitar), Vince Wiley (keyboards), Jay Williams, David Haynes, Jason Meekins (drums), Dawoud Said (acoustic piano), and Shirley Dirden, J. Stewart (vocals) are the lineup of the new album.
Johnny E. Stewart has written all thirteen songs. With more than 56 minutes playtime enough for a great listening. He will be releasing the album on April 20, 2021. So tighten your seat belt for a groovy ride.

With the opening Play Day Johnny allows us a glimpse into his family environment, with a cheerful child's voice soulfully imitated by the saxophonist Jimmy Reid. Can't Stop The Music is an attitude of hope translated into sound, which gives buoyancy and encouragement even in today's stressful times.

On the funk loaded Grooves To Go Johnny lets his bass speak to the audience. The Wait describes the state when the decision has not yet been made and everything is in limbo. Featured artist is Dawoud Said, who shows us his brilliance on the piano.
As We Dance presents the lovely voice of Shirley Dirden. On Love Parade saxophonist Jimmy Reid demonstrates the possibilities of overdubbing. He can even simulate a marching band. CU@9 reveals luscious licks by guitarist Clay Benjamin who makes it easy to love his guitar work.

Highways To Home is the aptly musical description for that longing to see those closest to you again as soon as possible. To The Good Times is Stewart's wistful memory of that time when the dark cloud did not yet overshadow our lives. Kinetic is the energy that an object has by his motion. What is better than music that can capture that movement.
Until the 40's the white piano keys had a thin top of ivory. This has long been a thing of the past. Nevertheless, Stevie Wonder's song Ebony and Ivory, has brought back the memory of this material. Beautiful Ivory describes in a figurative sense the beauty of piano playing, as it can not be more true.

In The Pocket features the energetic performance by sax player Eddie Baccus Jr. who is a mainstay in the smooth jazz scene. Down by The Gulf Coast captures the atmospheric lightness of this region, which invites you to relax and breathe.
Grooves To Go is not just for a quick takeaway. No, this is music that last longer than a decade.







Buy the album in all stores



Album Information



Title: Grooves To Go
Artist: Groove Frequencies
Year: 2021
Genre: Smooth Jazz
Label: Independent

Tracks:

1) Play Day (feat. Jimmy Reid) (3:33)
2) Can't Stop The Music (feat. Clay Benjamin ) (4:14)
3) Grooves To Go (4:14)
4) The Wait (feat. Dawoud Said)
5) As We Dance (feat. Shirley Dirden) (5:13)
6) Love Parade (feat. Jimmy Reid) (4:19)
7) CU@9 (feat. Clay Benjamin) (4:27)
8) Highways To Home (feat. Jimmy Reid) (4:01)
9) To The Good Times (4:24)
10) Kinetic (feat. Jimmy Reid) (4:01)
11) Beautiful Ivory (feat. Dawoud Said) (4:29)
12) In The Pocket (feat. Eddie Baccus Jr.) (4:13)
13) Down by The Gulf Coast (feat. Clay Benjamin) (4:05)






Further reviews: