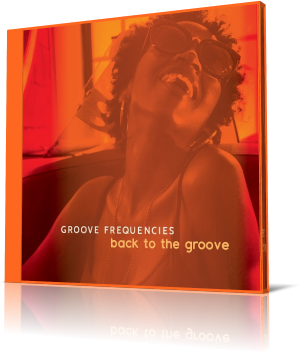 Groove Frequencies is a project by bassist, keyboardist and writer Johnny E. Stewart. He follows the concept to write smooth jazz music with a groove and bring in musicians that he has met through the years. All started with In The Groove in 2017, followed by Groove Frequencies (2018). Back To The Groove is the third album, available August 2, 2019.
The current live performance lineup consists of Jimmy Reid (saxophone), Clay Benjamin ( guitar), Vince Wiley (keyboards), Jason Meekins (drums) and Johnny E. Stewart (bass & keyboards). Guest musicians on selected tracks are Ryan Haynesworth (guitar), Dawoud Said (acoustic piano), and Sherree Patrice (vocals).
Johnny E. Stewart has written all songs with the exception of Happy Feelings, which was written by Frankie Beverly (Maze). "There's a vibe Groove Frequencies' music transmits and I write the music to ensure it doesn't change", comments Johnny.
Jump right into the groove with the title song. Crystal clear sonic sound in a funky environment. If you like to listen to the saxophone, Jimmy Reid is the perfect choice for you. Forming several melody lines into a harmony at the same time is no easy task.
Just after the first notes you know The Beauty Of Love is a radio hit. The appealing melody lead by Jimmy's sax in combination with Clay's uplifting guitar pulls the spot-on trigger. My Renee conveys heartfelt romantic feelings, as only a love ballade can do. Jimmy is the messenger with Armor's arrows in perfect harmonies.
Latin Loose has something of a relaxed liberation, with Jimmy and Clay on their instruments emulating the state of ecstatic ecstasy. Smile For Me features Dawoud Said on acoustic piano. His performance is tight and has this loveable groovy timbre.
The bass powered Funky "J" awakes associations to bass albums of Wayman Lawrence Tisdale or Julian Vaughn. The song Happy Feelings was originally performed by Frankie Beverly and Maze for their groundbreaking album Maze in 1977. Their first album after the group changed the name and signed to Capitol Records. Sherree Patrice is the featured vocalist of this rendition, a singer with an impressive history only surpass by her prowess.
40 To Memphis is an homage to the interstate 40 connecting Tennessee's three largest cities Memphis, Nashville, and Knoxville. The principle of playing together is lightened with small solo parts to a vibrant event. When You Believe shows the roots of the group with an instrumental hymn in gospel style. The reprise of My Renee sets the end point with a soft melody highlight.
With Back To The Groove Johnny E. Stewart keeps his promise and accomplishes his mission to bring the groove to the people. These hooked laden vibes will not miss their mark.





Buy the album in all stores



Album Information



Title: Back To The Groove
Artist: Groove Frequencies
Year: 2019
Genre: Smooth Jazz
Label: Independent

Tracks:

1) Back To The Groove feat. Jimmy Reid & Ryan Haynesworth (4:13)
2) The Beauty Of Love feat. Clay Benjamin & Jimmy Reid (4:46)
3) My Renee feat. Jimmy Reid (4:51)
4) Latin Loose feat. Clay Benjamin & Jimmy Reid (3:41)
5) Smile For Me feat. Dawoud Said (4:27)
6) Funky "J" feat. Jimmy Reid (4:45)
7) Happy Feelings feat. Clay Benjamin & Sherree Patrice (5:29)
8) 40 To Memphis feat. Jimmy Reid & Clay Benjamin (4:22)
9) When You Believe feat. Jimmy Reid (4:47)
10) My Renee (Reprise) (1:21)





Further review: