| | |
| --- | --- |
| Archive | |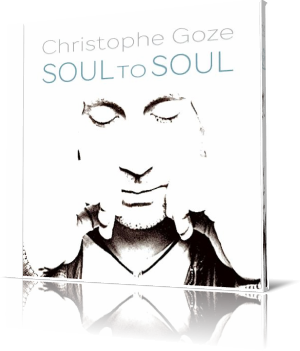 Guitarist Christophe Goze is a world wanderer. This applies both to his changing residences, which has taken him through eight countries from his birthplace Paris to his current home, Barcelona, Spain, as well as his stylistic orientation, which has a lot to do with world music but also with his jazzy roots.

The story behind the creation of this album is explained by the basic polyglot attitude of this musician. At the outbreak of the pandemic, Christophe was staying in Morocco, which closed its borders as a result of the first wave. He had not expected that this blockade would last a year. Christophe made the best of this predicament, rented a small studio with a sea view and devoted himself to musical recordings.

The result is the album Soul To Soul (2022), with which Christophe approaches the realm of smooth jazz in his own special way. Thanks to the possibilities of the Internet, he was able to involve the following musicians in the creative process: Marc Antoine (guitar), Roberto Briot (bass), Curtis Lyons Jr., Laurent Facheux, Matthieu Rabatte (drums), Frederic Langlais (accordina), Michel Gaucher (flute), Ravi Prasad (Indian vocals), and Skeb (vocals).

All tracks are written, produced and arranged by Christophe Goze. Norwegian Wood is written by John Lennon and Paul McCartney. The album opens with the title song, a highly attractive guitar piece that has everything for the summer hit of this year. Soul To Soul by no means conceals its origin, as it finds its resonance in the oriental-Arabic orchestral background.

At The End Of The Street captures the world music wave and amplifies these amplitudes with Ravi Prasad's Indian vocality, Tablas, Michel Gaucher's flute and Marc Antoine's acoustic guitar to an irresistible musical fluid. The Nightfly takes the musical principle of the title song to modify it in a multifaceted way in exact knowledge of the high efficiency of this guitar magic.

Lazy Sunday takes it loose, with the main focus on the keyboard sound. Soul To Soul (2022) picks up the theme of the original title and leads us to further variations that are equally pleasing. The slightly jazzy improvisation is especially appealing.

Bossa Roma is by no means a Bossa Nova, but rather in the dominion of lounge or chill out in the style of the Café de Mare series. You And I musically reflects on the vibrations in a two-person relationship, with suave serenity shaping the guitar playing. As the piece progresses, some of George Benson's scat style also resonates.

Norwegian Woods from the Beatles album Rubber Soul (1965) is performed by Christophe in Flamenco style with a lounge touch. Passing Time could be understood as the melancholic flip side of Soul To Soul. Somehow you have to deal with it, how time flows irretrievably out of your hand.

Visual Love is something ethereal only briefly present, which quickly fades like a fragrance. Ti Voglio Bene is a tender declaration of love that nevertheless reveals a strong emotionality with assertiveness. We'll Meet Again (2022) opens another kaleidoscope of different emotional worlds, which nevertheless harmonize. Frederic Langlais' Accordina brings another musical facet to swing.

In addition Christophe offers two extended versions of The Nightfly and You And I, which know how to convince.

Christophe Goze's album Soul To Soul (2022) contains sonic gems that easily have what it takes to become a monster hit. Is Christophe really aware of what is in store for him?





Buy the album at bandcamp

Album Information

Title: Soul To Soul
Artist: Christophe Goze
Year: 2022
Length: 0:59:47
Genre: World Music
Label: Independent


Tracks:

1) Soul To Soul (3:42)
2) At The End Of The Street - feat Marc Antoine (Remastered) (4:12)
3) The Nightfly (2022) (3:20)
4) Lazy Sunday (4:08)
5) Soul To Soul (2022) (3:48)
6) Bossa Roma (4:19)
7) You & I (4:49)
8) Norwegian Wood - feat Skeb (Remastered) (3:34)
9) Passing Time (4:19)
10) Visual Love (4:17)
11) Ti Voglio Bene (Revisited) (4:19)
12) We'll Meet Again (2022) (4:31)
13) The Nightfly (Extended) (5:34)
14) You & I (Instrumental) (4:49)