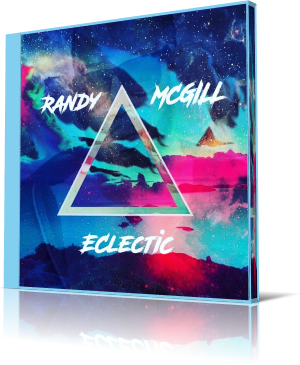 Born in Houston, Texas, now a South Florida resident multi-instrumentalist Randy McGill covers a broad range of styles. Inspired by artists such as Robert Glasper and Snarky Puppy, he is a musician always pushing for greatness.
His debut album is the EP Eclectic, released in November, 2017. Randy has written and mixed all songs and invited an elite circle of top musicians to his project. Neeeooooohhhhhhh follows a completely different approach to traditional smooth jazz. Instead of a sonic melody, McGill chooses a collage of voice messages (Martin Luther King Jr.'s speeches), sound sequences, and gospel-like vocal chords.
That it also works differently, he demonstrates with the following Your Eyes. Extraordinary in the length of the song fascinating solos on piano and keyboards evolves from a very groovy piece. Responsible for this musical listening pleasure is blessed pianist Randy McGill and Dre Synth, who played the outstanding synth solo.
Funktastic is an ecstatic wild ride through the realms of Funk. Up-tempo to the max the involved musicians reach their borders and perform far beyond. Nakupenda Wewe means in Swahili I Love You. After a folkloristic intro to the African roots drummer Randy McGill is burning his drums to the limit on a jazz fusion level.
Kansas City Shuffle dives into blues, jazz funk, jazz fusion rooms going in and out never closing the door. Keyboardist Mitch Towne interferes a straight melody with piano lines who squirm like musical snakes. The Hammond B3 solo gives true meaning to the word virtuoso. The final reprise of Neeeooooohhhhhhh reveals some more exquisite McGill beats.
Randy McGill presents on his album Eclectic musical artistry and effervescently inventive, multi-color and enthralling instrumental eccentricities. A musician who enjoys his freedom of creativity.