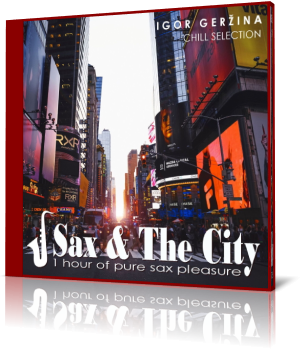 May I introduce Croatian sax man Igor Geržina to you? He is an award-winning sax player, composer and the Croatian Radiotelevision Jazz Orchestra producer. He has graduated in saxophone from Zagreb Academy of Music, and has studied at Berklee College of Music (Boston, USA). Since 2003, as a permanent member of the Croatian Radiotelevision Jazz Orchestra, he has worked with many names on the jazz scene, he has taken part in studio recordings, concerts, TV shows and since 2009 he has been composing and making arrangements for the orchestra.
His discography encompasses 128 albums. In order not to confuse you, we will concentrate on his solo albums. It started with his debut album Sax Album in 2006, followed by Dalmatian Sax (2008), Metropolis (2012), One Click World (2013), Bucket List (2016), Svim na zemlji (2018), a Christmas album, and Sax & The City (2019).
Sax & The City is a compilation based on his albums Metropolis, One Click World, and Bucket List. The Whisper of Your Heart opens the collection, released as single in 2018. The song starts there, where Careless Whisper ends. A solid mixture of romantic tenor sax and guitar chords.
The Moment She Walked In glows with the anticipation of a professional album. Everything is consistent, from the melody to the fluffy rhythm. This summer lounge tune is taken from the album Bucket List featuring Robert Vrbančić on bass, Kristijan Zebić on drums, Elvis Stanić on guitar, Jurica Leikauff on keys and the maestro himself.
The title Cocktail Time plays mischievously with the purpose for which the piece seems to be intended. Taken from the album One Click World the song showcases the high level of the participating musicians. Inner Sight is the starter of the album Metropolis. Igor's trademark is the skillful combination of tenor sax with guitar sound and keyboard harmonies. Of course, he masters the overdub process perfectly.
A Gentleman Never Tells shines with an excellent keyboard solo by Jurica Leikauff who is contributing significantly to Igor's success. Songs like No Strings Attached make clear that Igor Geržina can effortlessly keep up with the greats of the smooth jazz scene and is stylistically no different from them.
On Can't Stop the Train from the album One Click World Igor is supported by an outstanding horn section consisting of Antonio Geček (trumpets), Damir Horvat (alt & bari sax), Mario Bočić (tenor sax) & Miron Hauser (trombone). Maasej Kovačević rounds it up with Wurlitzer & piano. Airplay is very melody-oriented, but from the second half of the piece it becomes a platform for two interesting solos.
Small Cafe has two supporting pillars, on the one hand Igor's energetic saxophone recital, on the other hand the sonorous e-piano solo by Maasej Kovačević. In The Spot is another good example for Igor's sophisticated overdub technique. Blue Lounge tunes us into an atmospheric beach scenery with elegant appearances.
The Two Children you can await on this song is sweetness and soulfulness. Simple Road is a street in Metropolis where everything flows softly. Suburban Soul adapts a motif that should not be unknown to smooth jazz connoisseurs. Living out of a Suitcase features professional trumpet player Josip Grah embedded in a perfect horn arrangement.
Close to Your Heart differs from the other songs because it is based on a groovy Bossa Nova rhythm. On Eastern Magic Igor meets with compatriot and fellow saxophonist Magdalena Chovancova. By the way, her partner Robert Fertl plays guitar on this piece. Both are very successful with their group Threestyle.
Sax & The City is exactly what the title promises. An album full of sax loaded energy.







Buy the album in all stores



Album Information



Title: Sax & The City
Artist:

Igor Geržina


Year: 2019
Genre: Smooth Jazz
Label: Independent

Tracks:

1 The Whisper of Your Heart 3:58
2 The Moment She Walked In 4:15
3 Cocktail Time 4:21
4 Inner Sight 4:43
5 A Gentleman Never Tells 4:07
6 No Strings Attached 4:14
7 Can't Stop the Train 5:08
8 Airplay 5:15
9 Small Cafe 5:27
10 In the Spot 4:48
11 Blue Lounge 5:37
12 Two Children 5:07
13 Simple Road 4:56
14 Suburban Soul (feat. Frank Folgmann) 5:29
15 Living out of a Suitcase (feat. Josip Grah) 3:48
16 Close to Your Heart 5:27
17 Eastern Magic (feat. Magdalena Chovancova) 4:55