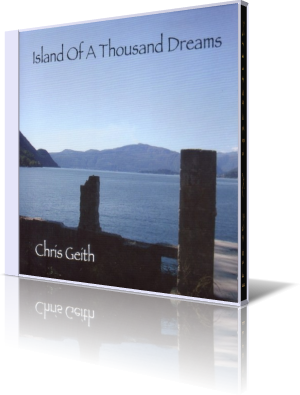 Chris Geith knows a secret. The secret of success. His sophomore album Prime Time was one of the best selling albums on mp3.com holding the Nr.1 position in the charts smooth jazz, jazz fusion and contemporary urban/R&B over months. The album was downloaded more than 1,400,000 times.
His new album Island Of A Thousand Dreams is released at CDBaby and currently the best selling album in Smooth Jazz. Members of his group are Chris Geith - Piano/Keyboards, Fred Scerbo - Saxophones, Matt Marshak - Guitars, Mark Mullers - Bass, Dean Kosh - Drums. The same musicians have recorded this album with the exception of the drummer, who was Donny J D on the album. All songs were composed, arranged and by Chris Geith.
The album is packed with fifteen songs, enough for over one hour music. We tumble into the album with Watch Your Step, a sizzling tune with a great piano line, propelling shuffle beat and a broad horn support. Easy Does It appeals with an attractive melody, the first approach to the imaginary island of dreams.
Once In A Lifetime is a good place for Chris Geith expansive piano journey. Avoid to listen to Coastal Daydreaming, when you are driving your car. Caught by this song you could easily crash. Chris Geith shines on the romantic ballade The Mirror Of Happiness. If you love the music of Richard Clayderman, Jim Brickman and David Foster, this is something for you.
On Diamonds In The Sky Matt Marshak shares Chris' melody path on acoustic and electric guitar in an elegant flow. Only The Heart Knows is the music, which touch your heart. Chris Geith comments: "I always imagine 'playing live' when I write. I like to picture the reaction of the audience when the music becomes more and more intense."

The uplifting Flying West will perfectly accompany your next journey. Taste some flavor of Pet Shop Boys Suburbia's piano line. Above The Clouds, where the freedom is without any limits, there you will find this stirring melody. Get this Bossa Nova swing and listen to Island Of A Thousand Dreams. Chris Geith piano playing is grisp and clean.
The heartfelt ballade When Morning Comes featuring Fred Scerbo on sax enlightens mind and soul. The up-tempo Tomorrow's Promise showcases more of Chris Geith's polished piano performance. His sense for catchy melodies is incredible. With reverb and verve Blue Horizons opens a wide space of sound.
Eternal Spring is based on an Urban beat, while the melody stays in the solid smooth jazz ground. With the contemplative Yesterday's Goodbye closes Chris Geith the great range of awesome melodies.
Chris Geith's album Island Of A Thousand Dreams speaks for itself. Eternal Music for your relaxing hours.




Album Information

Title: Island Of A Thousand Dreams
Artist: Chris Geith
Year: 2010
Length: 1:02:45
Genre: Smooth Jazz
Label: Timeless World Productions


Tracks:

01 Watch Your Step [3:50]
02 Easy Does It [4:16]
03 Once In A Lifetime [4:12]
04 Coastal Daydreaming [4:26]
05 The Mirror Of Happiness [3:38]
06 Diamonds In The Sky [4:17]
07 Only The Heart Knows [4:52]
08 Flying West [3:51]
09 Above The Clouds [3:45]
10 Island Of A Thousand Dreams [4:43]
11 When Morning Comes [5:46]
12 Tomorrow's Promise [4:15]
13 Blue Horizons [4:10]
14 Eternal Spring [3:59]
15 Yesterday's Goodbye [2:44]