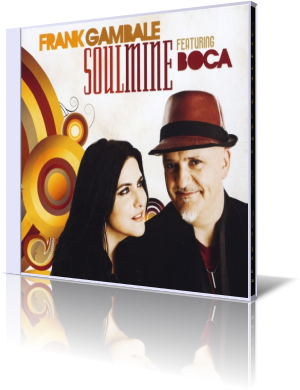 Guitar virtuoso Frank Gambale is widely known as well respected artist performing with jazz legends like Chick Corea, Billy Cobham and as member of the jazz fusion supergroup Return To Forever. With more than 20 solo albums in his credit and dozens of other guest record projects his name echoes like thunder.
In January 2010 he married his soulmate fiancť Boca. The project Soulmine is Frank's affair of the heart. Frank comments in an interview: "Boca is a wonderful singer/songwriter and talented pianist. Sheís just a fantastic talent. Iíve wanted to do vocal music. Back in Australia I was always in vocal bands and itís something Iím returning to Ė although Iíve done vocal tunes on my instrumental records too. Before, I was doing the lead singing, but I wanted a wonderful, talented singer to front the sound. We wrote ten songs together. Iím really excited about it."

Further artists on this album are bassist Victor Wooten, drummer Joel Taylor, pianist Otmar Ruiz, and organist Brian Auger. Gary Coppola adds some background vocals on selected tracks.
Embedded in Frank's sophisticated jazz fusion arrangement, songstress Boca expands on Love Set Me Free her ambitious song talent. Live Your Dream wallows more in the eccentricities of jazz. All In The Game Of Life allures with smooth elements before Boca loses herself in the esoteric sound world. A female counterpart to Rick Wakeman, is that possible?
Be The Change is another song with a very unique song structure far away from any pressure of people's expectations. Sun Will Shine is another blow to the notch of Fusion Jazz. Forbidden Kiss presents a complete change of style fostering the Latin flavor of Carlos Santana. With Keep Leadin' Me On the couple re-visits the jazz rock realm.
With her lush timbre celebrates Boca romance on Saved Me From Myself. Enchanted Love is a natural continuation and episode. On Open Your Mind Victor Wooten joins the duo with his very own bass axe. The real star is nevertheless Frank Gambale, who has opened the jewelry box of his guitar.
A certain affinity for Boca's vocals as integral part of Gambale's jazz fusion concept is an essential prerequisite to love this album.