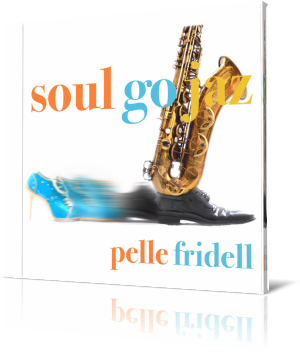 Born in Stockholm, Sweden and since 1993 resident in Copenhagen, Denmark, saxophonist Pelle Fridell can look back on an exquisite list of top musicians with whom he has already performed together. Among them are Toots Thielemans, Randy Brecker, Sir Charlie Watts, Tom Waits, Ivan Lins, Angelique Kidjo, Georgie Fame, Geir Lysne, Chris Potter, Michael Mantler and more.
Pelle has already released five solo albums.
Soul Go Jaz
(2018) is the latest release in the
Go Jaz
series with
Go Jaz
(2002) and
More Go Jaz
(2011). Pelle performs on his album sax, flutes, bass-clarinet, keys, programming. Additional artists are Tim Lutte, Niclas Campagnol (drums), Søren Reiff (guitar), Lars Danielsson ( bass), Mads Storm (Rhodes, piano), Jesper Christenson (Wurlitzer, piano), and Michael Mølhede (trumpet).
The starter of the album,
For The Ladies
, presents Fridell in the best light. He performs the sax with great passion and emotion. Marvin Gaye could be the inspiration for his saxual approach. On
Johanna
he hits the sweet spot with his graceful flute in combination with sax burning the notes in a fast run.
Looking
shows a superior treatment of the sax in a multitude of overdubs well balanced and perfectly harmonized.
Hands Off
firmly stands in the fusion jazz style similar to Jeff Lorber or the group Metro. The slow tempo ballad
History
shines with a musical revelation and its inner persuasiveness.
Calling a tune
The Speed
gives the impression that it is designed for velocity. Linked to a continuous melody, virtuosity unfolds in a free-flowing improvisation.
Humanity
is a big term with conceptual depth. Based on a dynamic bass run, Fridell unfolds his entire spectrum of free-formed jazz.
Every Day
is constructed with reviving strokes of modernisms featuring saxes in various tonality.
Family
aptly displays the full range of saxophones from soprano to the bass in perfect interaction.
Megasoul
dreamily intertwines elements of contemporary jazz with Pelle's personal style.
Asleep
switches into the transition period between waking and sleeping, that twilight that leads to dreamland. An intimate dialogue between piano and flute. The up-tempo
Generator
is the second fusion jazz tune showcasing Pelle on sax and an inspiring rhythm run.
Till Dig
are the Swedish words for
To You
. A slow, contemplative piece. The final
Never Give Up
combines elements of contemporary jazz with those of Funk music to an intoxicating masterpiece of jazz.
Sometimes the geographical distance to the motherland of jazz is an elementary prerequisite for a certain independence of style. The Swedish
Go Jaz
stands for Good Jazz and that is the minimum you can await here.


Buy the album in all stores

Album Information

Title: Soul Go Jaz
Artist: Pelle Fridell
Year: 2018
Genre: Smooth Jazz
Label: Pelle Produktion / Gateway Music

Tracks:

1 For the Ladies 5:17
2 Johanna 5:24
3 Looking 4:26
4 Hands Off 5:14
5 History 5:10
6 The Speed 4:54
7 Humanity 6:07
8 Every Day 5:01
9 Family 4:00
10 Megasoul 5:08
11 Asleep 3:35
12 Generator 5:33
13 Till Dig 4:09
14 Never Give Up 5:01