| | |
| --- | --- |
| Archive | |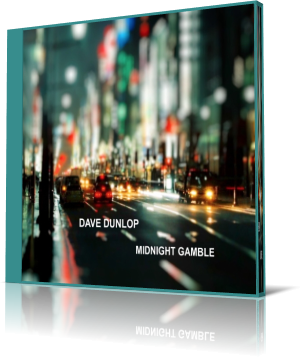 Trumpet, flugelhorn and sometimes also the flute, these are Toronto based Dave Dunlop's favorite instruments. He has performed with great musicians like Gino Vannelli, Aretha Franklin, Michael Buble, Roger Daltrey, & Aaron Neville and played in over hundred shows.

In his long and successful time as a musician, he has released a total of two albums. His debut album was The Hang (2006), followed by Midnight Gamble, released in November 2020. Both albums are available at bandcamp. Insiders of the smooth jazz genre will discover some known musicians in the credits.

With the opening Fiesta Grande Dave recommends himself directly as a show act, as is not at all rare among trumpeters. A successful start. Soulful Strut was a huge hit of the group Young-Holt Unlimited in 1968. Especially in the smooth jazz genre this song was often covered. Most popular versions are by Nick Colionne, Grover Washington Jr., Kim Waters, Gail Jhonson or Rocco Ventrella. Dave's rendition shines with a successful arrangement and, of course, his exceptional solo performance on trumpet.

The title song combines the trumpet performance in muted and unmuted form in a skillful way and creates the magical atmosphere that can only be found in the late night hours. Come Together is the opening song on the Beatles album Abbey Road (1969). A song with an idiosyncratic character. Dunlop has accepted the challenge and mastered it admirably.

As on Espanas Noches, Herb Albert could sound today if he had continued and refined his The Tijuna Brass lineage. Quincy Jones composed and recorded his famous Soul Bossa Nova for the Big Band Bossa Nova album (1962). The closeness to the original is refreshing in Dave's interpretation.

Green Eyed Lady is a single by the American rock band Sugarloaf, released in 1970. Dave gives the old song new life with a modern arrangement and his blessed trumpet. On Harvard Ave Michael Massaro is the featured artist on soprano and tenor sax, sharing the melody with Dave on trumpet.

People Make the World Go Round is a song written by Thom Bell and Linda Creed, originally recorded by The Stylistics and released in 1971. Dave doesn't just deliver a copy, but a refined contemporary version that reflects his musical personality. Final tune is The Warmth of Your Touch, the emotional good bye of a great musician.
Dave Dunlop portrays with Midnight Gamble his natural habitat as studio and stage musician. He convinces with an incredible presence and mastery on his favorite instruments and especially with his perfection in arrangement, interpretation and composition.




Buy the album at bandcamp

Album Information

Title: Midnight Gamble
Artist: Dave Dunlop
Year: 2020
Genre: Smooth Jazz
Label: DoubleDee Records

Tracks:

1) Fiesta Grande (3:00)
2) Soulful Strut (3:37)
3) Midnight Gamble (3:32)
4) Come Together (4:06)
5) Espanas Noches (3:51)
6) Soul Bossa Nova (3:23)
7) Green Eyed Lady (4:21)
8) Harvard Ave (4:36)
9) People Make the World Go Round (4:27)
10) The Warmth of Your Touch (4:33)






Credits:

Dave Dunlop-Trumpet, Flugelhorn, Flute (1) Programming, Arrangements

Drums- Wilson Laurencian (1,2,3,4,6,7,8,9,10)
Steve Heathcote (5)

Bass- Peter Bleakney (1,2,4,6,7,10)
Rob DeBoer (3,8,9)
Russ Boswell (5)

Guitar- Dave Gray (1,2,4,6,7,8,9,10)
Peter Mueller (3)
Carlos Lopes (5)

Keyboards- Brigham Phillips (1,2,4,6,7,10)
DeBoer (3,8,9)
Gord Sheard (5)

Trombone- Peter Hysen (1,6)

Flute, Baritone, Tenor Sax- Simon Wallis (6)

Soprano & Tenor Sax- Michael Massaro (8,10)