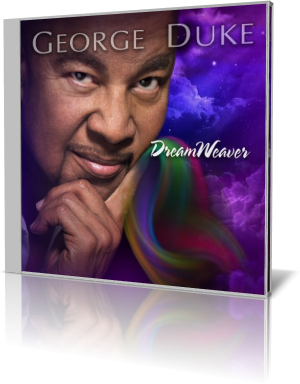 The true greatness of a man shows up in hard times in managing personal problems. George Duke created DreamWeaver after his beloved wife, Corine, passed away. In light of this event, he found his inner balance during the recordings. The epic Onomatopoeia of the introductory piece is reminiscent of the legendary Genesis on Illusions.
Stanley Clarke's intimate playing style on the upright bass harmonizes excellently with Duke's piano improvisation on Stones of Orion. The gentleness with which both masters of jazz outline the notes of the melodious episode, unparalleled. With Trippin' George Duke takes a look back into his own youth, when he had the first contact to jazz, especially to Julian Cannonball Adderley.
With a strong horn section, a funky guitar and the well-known keyboard George Duke succeeds the great appearance on the impressive AshTray. Of course, George Duke is also a master of the ballad, as he shows with Missing You. A piece that seems to be recorded with such ease and yet in view of the tragic event receives a bitter aftertaste.
Jeffrey Osborne, Lalah Hathaway, Freddie Jackson, BeBe Winans and Howard Hewett sing and celebrate together Change The World in the tradition of Africa's We Are The World. The gospel-enhanced chorus convinced with a wonderful melody and perfect harmony. The infectious Jazzmatazz combines elements of Tom Brown's Funkin' For Jamaica with Quincy Jones' Back On The Block to an irresistible groove.
The alluring ballade Round The Way Girl has the same vibe as songs of the great Curtis Mayfield. On Brown Sneakers George Duke lives his passion of the keyboard. Further ballades like You Never Know and Ball & Chain featuring the late Teena Marie illustrate the exceptional quality of this great musician as a keyboardist, arranger and composer. With Burnt Sausage Jam launches Duke a dizzying tour de force inlaying later a more relaxed pace. He is joined by Christian McBride, acoustic bass, Jef Lee Johnson, electric and acoustic guitars, Li'l John Roberts, drums, and diverse horn players. The album ends with Happy Trails, a swinging ballade, presenting great voices and sophisticated instrumentation.
With DreamWeaver George Duke serves a broad range of listeners with outstanding music, as always timeless reference.