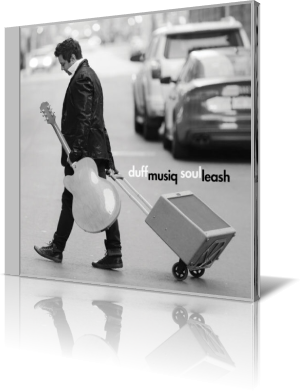 Serbian born and Toronto based international guitarist, multi-instrumentalist and producer, Damir Demirovic also called "Duffmusiq" has just released his solo debut album Soulleash (2017).
Duffmusiq has produced and mixed the recording and performs guitar, keyboards, saxophone and bass. Further musicians on this album are Alex Sekulovski (drums), Miki Petkovski, Vasil Hadzimanov (piano), Roger Williams, Connor Walsh (acoustic bass), Ran Caspi, Rob Brown, Milosh Angelov, Yash Presswalla (electric bass), Sam Heineman & Anthony Brancati (keyboards and Hammond B3), Gilad Jacobson, Dimitar Bodurov, Anthony Brancati (keyboards), Alexis Baro (trumpet), Gyles Natalie, Quisha Wint, Wade O. Brown, Christine Hamilton, Jin Brown and Jeff Eage (vocals), Geoff Bornes (alto sax).
The inclined jazz-interested listener is subject to the mechanism of comparing the style of an unknown musician with already known ones. Duffmusiq is stylistically similar to the guitarists Ronny Jordan, Zachary Breaux and perhaps George Benson. On Interlude Solitude Duffmusiq chooses the jazzy approach with a tendency to chords. In the middle of the piece you are torn from the dreams, when the coloratura vocals of Vania Margani breaks the course of the performance. That I call a cultural surprise.
After Midnight is the special moment of time, when night owls and party tigers swarm out. It's the moment of laziness and chilling out, everyone according to their gusto. Duffmusiq delivers the aptly music and Christine Hamilton vocalizes the mood with sizzling, lascivious vocals.
My Only Love features Wade O. Brown tagged by SoulTracks as one of the late night love crooners between Barry White and Luther Vandross. Damir has composed this song inspired by the song Big Spender. Finest biscuits, cakes and delicious pastries let water run into your mouth, Cookies is the right acoustic jazz combo alternative. Summer Rain shows its strength in the emotionally described summer mood. Apart from the emotional well-being and an uplift in spirit as sunlight strengthens the production of the messenger substance Serotonin in the brain, this music has the energy to brighten your mind.
Sometimes a title just has to sound like Soulleash. When the tune simmers effortless along, then the guitar is just in the groove. Party People is deceptively funky ditty that stays with you. In London people call it acid jazz, in US funk. Featured vocalists Wade O. Brown, Quisha Wint and Gyle deliver pure authenticity and thrilling entertainment.
The combination of rap (Jin Brown) and guitar like on Solace is nothing new. The late guitarist Ronny Jordan was famous for this kind of urban jazz. A specialty of this specific song is the tenor Jeff Eagar, who's voice ranges into falsetto. Another superior sound experience is Duffmusiq's most technically sophisticated guitar performance.
The title From Duff Till Down is a wanted aberration or ironical reference to the cult movie Dusk Till Dawn. On the musical level Duffmusiq delivers cool guitar jazz. The aptly titled final song Farewell (Outro) with Geoff Bournes on alto sax leaves a lasting impression of a guitar virtuoso establishing his own foothold in contemporary jazz.
The debut album Soulleash by premium guitarist Duffmusiq is one of those precious stones listeners are waiting for. A warming up for the next album hopefully soon to come. My expectations are more than exceeded.