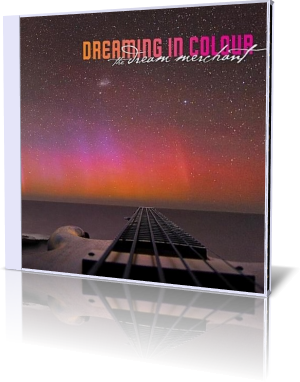 The band's name is just as colorful and brightly vibrant as their music. Dreaming In Colour are bassist Kevin Ellis, drummer Chris Noonan and guitarist Joe Calandrino. Kevin founded the band with the desire to play rock jazz with a contemporary touch. Chris Noonan has studied with Dave Weckl and Jim Chapin in L.A. and follows the same style. Joe Calandrino holds a Bachelor of music performance from Southern Illinois University at Edwardsville and completes the trio.
During the recordings of their debut album The Dream Merchant (2012) the band was joined by keyboardists Jeff Lorber and Tim Pascoal, as well sax players Nelson Rangell and Eric Marienthal. In view of these jazz fusion greats one might not sure in which direction the train is driving, but the first notes allure with smooth jazz tones.
The up-tempo Chromatic smiles with a melodious theme but with Lorber on keys the song satisfies with prolific instrumental mastership. Yearbook keeps smooth jazz and jazz fusion in a grooving balance. Twilight Drive features Eric Marienthal on alto sax with a jazzy approach, but it's Jeff Lorber who lets the song shine with nice phrasings on Rhodes piano.
On title piece The Dream Merchant Nelson Rangell presents a heartfelt tune in a divine harmony with the entire band. A crosswind is any wind that has a perpendicular component to the line or direction of travel. Musically spoken Crosswinds is the clash of different styles, concrete the energetic fusion impact of Eric's sax with the ironically smooth jazz part of fusion king Jeff Lorber.
Keepsakes is a gift that evokes memories of a person or event with which it is associated. Jeff's present is not less than a basket of contemporary jazz. The powerful Percolator sees the group still on the contemporary jazz field. On Waiting In Texas Marienthal and Lorber team up again following Chris Noonan's melodious path.
On Davy's Byrne Marienthal had too work hard to fill the tune with so many horns. All musicians shared this syncopated theme with great fun. No More Goodbyes is destined as final song on the band's live concerts. Influence of Tower Of Power, Chicago or East Bay Soul are audible in the wonderful horn arrangements. On the last song Eric Marienthal takes over the theme of Twilight Drive this time on soprano sax.
With The Dream Merchant Dreaming In Colour show their vivid and energetic approach to contemporary jazz. Supported by star team players like Jeff Lorber and Eric Marienthal they succeed to move the audience through their prolific performance.