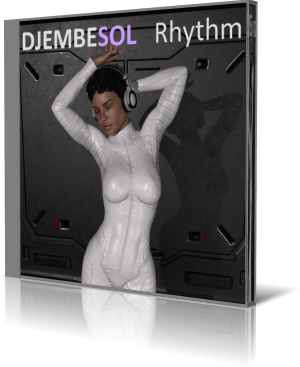 West Coast recording keyboardist and guitarist Terrence Curtis presents groovy music under his stage name DjembeSol. In 2015 his debut album appeared with the title Hypnotic. Now follows his second release Rhythm (2018).
With five and six tracks respectively, the projects are manageable. Since they are unfortunately only offered for download, they are more for the digital fans among us than the collectors of CD gatherings.
So there is neither an artist website with biography to report, nor a credit list of the album. It may be assumed that Terrence recorded the whole music as a multi-instrumentalist, otherwise he would surely mention his fellow musicians. Even if these facts do not simplify the review for a critic, it is worthwhile to lose a few words because of the music.
The album is called Rhythm and this explains itself quickly, because this is the decisive factor of the album. Sol Kiss is an experimental approach because of the unusual mixture of melody, rhythm elements and electronic effects. The result is nevertheless convincingly good and entertaining.
Jump starts with an exotic jungle rhythm, kicks in a trumpet and the quickly intersperse of house music intermingling with bebop piano leaves nothing to be desired in inventiveness. Rhythm seems to be a Latin American rhythm piece, if there aren't the many little sound surprises, which are packed as a big wonder bag.
Golden trots along in urban jazz beat. Speakeasy plays rap wise with and around autotune. This tune keeps up the tradition of acid jazz and groups like Colour Club. Escapade offers you privileged moments of well-being, a departure into another world, an adventure, your personal island of relaxation.
Terrence Curtis lives his dream of music to the fullest. His project DjembeSol is not only unconventional, cross-genre and innovative. It indicates the beat of the new time.






Buy the album in all stores

Album Information

Title: Rhythm
Artist: DjembeSol
Year: 2018
Genre: Smooth Jazz
Label: Independent


Tracks:

1 Sol Kiss 03:29
2 Jump 02:44
3 Rhythm 03:14
4 Golden 02:56
5 Speakeasy 04:00
6 Escapade 04:39