| | |
| --- | --- |
| Archive | |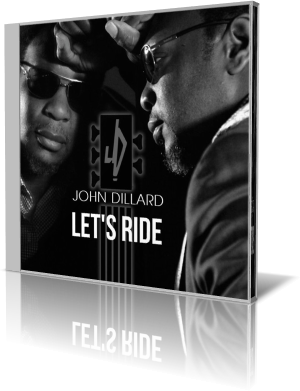 Hailing from Rochester, NY bassist John Dillard counts to his influences famous names such as Jaco Pastorius, Marcus Miller or Nathan East. He currently performs with Stephanie Mills, LeJuene Thompson, Brian Simpson, Matt Marshak, Jeff Kashiwa, The Sax Pack, Nick Colionne, and Four80East. Now he starts his own career with the debut album Let's Ride.

While John plays on his album bass and keys, he is supported by Quantavius Dillard and Richard Jenkins (drums), Lovell Bradford and Oli Silk (Rhodes), Lin Rountree (trumpet), Buff Dillard (trombone), Joe Lindsay, Reggie Graves, Matt Marshak and Marc Antoine (guitars), Marcus Anderson (sax, EWI), Gabriel Bello (synth), Ard Sherrod Jr. (sax), Paul Whitley (keys and organ), Chad Lawson (keys) on selected tracks.

Mix deep funk with with spoken words of Quentin Tailey and heavy slides on bass and you get Funk This - The Intro. A glooming business card with what could be. Playing funk is probably the most fun thing to do with a bass guitar. This wisdom heeded John and presents the funky Let's Ride.

With Gotta Make This Right John Dillard walks on the path of the late Wayman Tisdale. if you like the '70s sounds of EWF, Cameo or the Gap Band, then you will appreciate John's fonky direction. Add some smooth jazz with Marcus Anderson on sax and we have the groovy Cruise Control. For the broadcasters the album offers a radio edited version.

If you want to implement romantic music, one preferably performs the acoustic guitar. On 26 East are playing with Reggie Graves and Marc Antoine two masters of this instrument. Nevertheless some funk is shining through. Well, with I Need You John can go the extra mile concerning the romance. That flying has a positive side, clarifies the hooky Window Seat. Bass and Sax vying to the abrupt end.

The audience wants new stimuli. With Turbulence John delivers innovative entertainment. Forward is actually the wrong adjective for the next song. Because Dillard takes many bonds to the past. Be it the Rhodes piano, played by Silk, or the use of the bass as a melody carrier.

John Dillard's Let's Ride is solid like a rock. His album is enriched with a great sweep of musicians, so no boredom comes up, even if he uses his bass often as a leader. The professionalism of all is also consistently stellar.
Buy the album

Album Information

Title: Let's Ride
Artist: John Dillard
Year: 2015
Length: 0:39:31
Genre: General Jazz
Label: JMardi Music


Tracks:
01 Funk This - The Intro [2:03]
02 Let's Ride [3:46]
03 Gotta Make This Right [3:08]
04 Cruise Control [4:51]
05 26 East [5:06]
06 I Need You [3:21]
07 Window Seat [4:34]
08 Turbulent [4:46]
09 Forward [4:23]
10 Cruise Control (Radio Edit) [3:33]