| | |
| --- | --- |
| Archive | |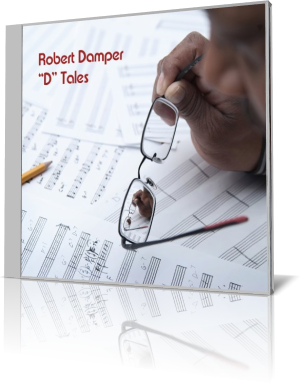 Seattle based keyboardist Robert Damper works for Kenny G as musical director and musician since more than 25 years. He performed with Stevie Wonder & Patti LaBelle and jazz greats like Roy Haynes, Jack DeJohnette and Branford Marsalis. Also to mention are his longtime collaborations with Najee, Tony Gable, Acousticsol and the Fatback Band.

"D" Tales is his debut album. Robert comments: "The music is finally at a place that I feel it is done. It's time to get it out." The album contains three covers, the rest are self-composed originals. It's also a tribute to his dear friend and former Kenny G drummer, Bruce Carter, who passed away in 2006. "Bruce played such a vital role on so many of these tracks and he was an incredibly important influence on me and my music," Damper says, remembering his friend fondly.
Guest musicians on this album are Kenny G, Najee and singer Skyler Jett. The album kicks off with a Spontaneous Epiphany. Enlightened and spiritually Robert builds a theme refining notes into emotional waves. The Oldskool Jam was released as first single in May, 2016. Robert excels on piano with expanding improvisations extensively supported by sax, horns and bass.
Wave starts with a wonderful harmonica intro by Tollak Ollestad before Damper performs the main theme on keyboards sharing the melody with master flutist Najee. Wave was originally composed by Antonio Carlos Jobim in 1967. While the original takes its strengths in the musical theme, the cover pervades with a sophisticated arrangement and superior instrumentation.
On Feel So Good Kenny G (soprano sax) and singer Skyler Jett unites to a romantic ballad about a female beauty. Those who love timeless elegance will appreciate this wave of harmonic symmetry. Sometimes it has to be slow to enjoy a melody in all the moves. Make A Wish follows this perfect approach. Fine voices, fine harmonies, what do you want more?
You, Me And Forever is a project of Damper and Najee. It's also the title song of Najee's most recent album, released in 2015 on Shanachie Entertainment. No doubt, on this song are performing two top musicians of the scene. The short symphonic Interlude (Invocation) bridges over to Buggin'. The title indicates that the music tends to something irrational. On contrary the song presents a supreme and keen sense of melody with some individualistic improvisations.
I Don't Need To Know features singer Roger Happel in a lovely ballad, the glue holding this tune together is solid. On Goblins Robert Damper shows his jazz muscles. The trumpet player sounds like the late Miles Davis, broadly supported by genuine horns and overall the maestro on Rhodes piano with impeccable phrasing. On Win Or Lose two wonderful voices duet on a charming ballad embracing the song with blessed talent.
Burt Bacharach and Hal David composed Say A Little Prayer for Dionne Warwick in 1967. Damper's innovative arrangement with trumpet and piano in the lead is a breath of fresh air leaning the weight on the jazzy part of the composition. Betcha by Golly, Wow is a song written by Thom Bell and Linda Creed that was originally recorded by Connie Stevens as Keep Growing Strong on the Bell Records label in 1970. The Stylistics' made it to a hit. This interpretation seamlessly melts Mary Witherspoon's attractive voice with Kenny G's soprano sax uncovering a hidden treasure.
Final track is an extended mix of Goblins. A tune that celebrates the pure passion and perseverance of all participating musicians.
A debut of a professional musician, who is so long in music business like Robert Damper, is obviously an acoustic event. "D" Tales is far more than that. Damper makes a good thing better and delivers the reference album of this just started year.





Buy the album in all stores

Album Information

Title: "D" Tales
Artist: Robert Damper
Year: 2017
Total Length: 1:09:13
Genre: Smooth Jazz
Label: Orcas Straits Records


Tracks:

01 Spontaneous Epiphany
02 OJ (Oldskool Jam)
03 Wave
04 Feel So Good (Feat. Skyler Jett & Kenny G)
05 Make A Wish
06 You, Me & Forever
07 Interlude (Invocation)
08 Buggin'
09 I Don't Need To Know
10 Goblins
11 Win Or Lose
12 Say A Little Prayer
13 Betcha By Golly
14 Goblins (Extended Mix)