| | |
| --- | --- |
| Archive | |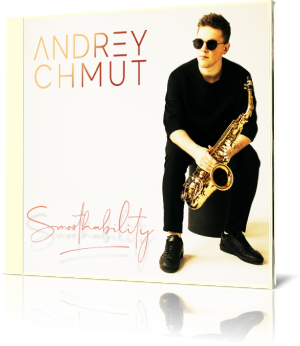 Starting a career as a saxophonist in the smooth jazz genre is a courageous undertaking these days. Ukraine born saxophonist Andrey Chmut didn't hesitate to long to build his own solo career. He joined the touring band of highly rated Ukrainian bass player Artem Lebedev. He also contributed to Valeriy Stepanov's first CD New Beginnings. From there it was no time-consuming way to his first very own debut album Smoothability (2018) on Skytown Records.
Andrey performs on his album alto sax, tenor sax, soprano sax, EWI, background vocals, keyboards & programming and is joined by U-Nam, Andrey Vdovichenko (guitars), Orhan Agabeyli (percussion), Knesia Chmut (background vocals and violin), Serhii Eremenko (guitars), Ruslan Bolatov ( Rhodes), Artem Lebedev, George Iweze (bass), Tobi MD Fotonade (live drums), Igor Agrich (Rhodes, organ & MiniMoog), Valeriy Stepanov (piano, Rhodes, keyboards & programming), Artem Banar (lead and background vocals), Anynya Udongwo, Cleulia Daniel, Kemi Oke (background vocals), and Bob James (electric piano).
The album starts with the title song, a fresh aperçu with all natural ingredients, what makes delicious smooth jazz today. K.S.U is an abbreviation behind which there is a compelling idea. A par force ride through the annals of contemporary jazz and fusion jazz. Andrey goes to the forefront of progress with the energetic Jazzed Up. This tune is full packed with sax.
Andrey Chmut invited label mate Valeriy Stepanov to shares the production of the new album with the three songs Those Sweet Nights, Don't Loose the Faith and Night Ride, which Valeriy has written, produced, arranged and performed. While the first one allures with a mellifluous melody, on which Andrey performs a full-flavored soprano sax, has the second one a dynamic approach keeping the melody line in good direction. Night Ride finally comes with a winning combination of elegant melody and R&B flavored base line.
But the album offers some more highlights. Foremost the rousing Song for a Friend featuring U-NAM on guitar, who sets concise accents in his familiar way. The thoughtful and alternately cheering Moving Forward surprises in the second half with a brilliant solo by Bob James on electric piano.

The vocal emphasized I'll Always Be There features singer Artem Banar. Artem Lebedev excels with an outstanding bass solo. Imagine Me is a single by American gospel artist Kirk Franklin from his 2005 album, Hero. Andrey gives this peaceful song a thrilling update.
Andrey Chmut's Smoothability is of such professionalism that you can't believe it's the product of a youthful saxophone player. One can only pay the highest possible respect and admiration to such a debut.


Buy the album in all stores

Album Information

Title: Smoothability
Artist: Andrey Chmut
Year: 2018
Genre: Smooth Jazz
Label: Skytown Records

Tracks:

1) Smoothability by Andrey Chmut (3:22)
2) K.S.U by Andrey Chmut (4:58)
3) Jazzed Up by Andrey Chmut (3:26)
4) Those Sweet Nights feat. Valeriy Stepanov by Andrey Chmut (4:45)
5) Song for a Friend feat. U-Nam by Andrey Chmut (3:48)
6) Don't Lose the Faith by Andrey Chmut (4:27)
7) I'll Always Be There by Andrey Chmut (4:02)
8) Moving Forward feat. Bob James by Andrey Chmut (5:51)
9) Night ride by Andrey Chmut (4:34)
10) Imagine Me by Andrey Chmut (4:55)