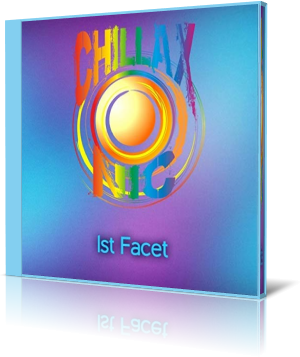 Ukraine-born multi-instrumentalist Konstantin Klashtorni has released his newest creation
1st Facet
under the project name Chillaxonic. It is probably due to the effervescent creativity of this gifted artist that he publishes his works under more and more new names. On the other hand, this name also results from a combination of the music styles Jazz, Chill Out and Electronica, which can be found on the new album.
We are already used to it from Konstantin that he utilizes the advantages of his own studio and records the album quasi all by himself. However this album features Michael Simon (trumpet) and Alex Yarosh (guitar) as guest musicians on selected tracks. Konstantin has written, mixed and recorded all tracks.
The new project starts stylistically, where Konstantin's previous albums left off.
Ineffable
elegantly mixes pleasurable sounds of guitar, synths and sax to the typical Klashtorni groove.
Ethereal
is the attribute for extremely light and delicate music, as if not of this world.
Cosmic Visions
uses well known sound effects, which are smartly reassembled by Konstantin.
Mellifluous
is an aptly title for the soft melting of piano, trumpet and synth to the sweet-smelling musical nectar.
Island Getaway
evokes the ever smoldering dream of holiday-like relaxation.
With
Other Side Of Jupiter
Konstantin revolves around the biggest planet of our solar system. He leaves the melodic structure in favor of atmospheric vibrations. When many bright colors are changing one calls this effect
Iridescent
. Konstantin presents the musical implementation of this visual impression. With the song
Groove Maestro
Konstantin stirs the synth bowl again.
Aurora
is a luminous phenomenon that consists of streamers or arches of light appearing in the upper atmosphere of a planet's magnetic polar regions and is caused by the emission of light from atoms excited by electrons accelerated along the planet's magnetic field lines. Once we put this scientific explanation aside, a dreamy melody remains in all its dazzling beauty.
Quintessence
and
Inner Reflections
complete the album in a constant chill-out style.
1st Facet
is for all fans of Konstantin Klashtorni's music a joyous surprise, which is gladly accepted.


Buy the album in all stores

Album Information

Title: 1st Facet
Artist: Chillaxonic
Year: 2018
Genre: Chill Out
Label: KvK Records

Tracks:

1) Ineffable (5:21)
2) Ethereal (5:09)
3) Cosmic Visions (4:26)
4) Mellifluous (4:27)
5) Island Getaway (5:06)
6) Other Side of Jupiter (5:03)
7) Iridescent (5:09)
8) Groove Maestro (5:55)
9) Aurora (5:13)
10) Quintessence (4:26)
11) Inner Reflections (4:31)