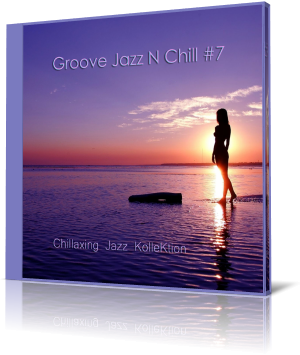 Multi-instrumentalist Konstantin Klashtorni, best known as the most active musician in the Smooth Jazz genre, hadn't appeared in months. Not until September of this year did the relief news come, a new album is released. Considering his huge total works, the question arose, in which section will the album be released?
Chillaxing Jazz KolleKtion presents Groove Jazz N Chill #7. That's called constancy. Exclusively composed and recorded by Konstantin himself. He also manufactures and distributes his albums and thus demonstrates his economic independence as a creative artist.
Memories of Us opens the album with a soft breeze of melody and a nicely balance of keys and sax. The swelling and decaying wave-tone provides an atmospheric basis for the use of piano and saxophone. Changing Seasons emphasizes a harmonious sonic collage of different sounds, which is very close to the spherical sounds of New Age music.
Fade into the Sunset wafts with known keyboard vibrations to which acoustic guitar and saxophone add accents. Ocean Serenity reminds a little of the music of Eric Serra (Le Grand Bleu).
It's a Better World with U is somewhat different from the atmospheric collages of the other pieces, as it follows a thoroughly appealing melody. Notions sinks again into a mélange of sound formations that stimulate the reverie. Riding on a Cloud follows this style seamlessly.
The Quiet Lakes shines with a sophisticated arrangement of the finest keyboard sounds that invite you to relax. Anywhere with You presents flute and strings as platform on which a lonesome sax creates a dreamy melody. Full Moon Tonight does justice to the title with a dreamlike trumpet that loses in piano themes and flute whispering. The Magic in You trickles with light guitar chords over the theme of the romantic approach.
Groove Jazz N Chill #7 does not claim to bring the listener closer to top performances of a musical nature. The music serves to relax and unwind, no more and no less.




Buy the album in all stores

Album Information

Title: Groove Jazz N Chill # 7
Artist: Chillaxing Jazz KolleKtion
Year: 2019
Genre: Smooth Jazz
Label: KVK Music

Tracks:

1 Memories of Us 4:31
2 Changing Seasons 5:18
3 Fade into the Sunset 4:44
4 Ocean Serenity 4:47
5 It's a Better World with U 4:34
6 Notions 5:27
7 Riding on a Cloud 5:15
8 The Quiet Lakes 4:27
9 Anywhere with You 4:06
10 Full Moon Tonight 4:59
11 The Magic in You 3:42