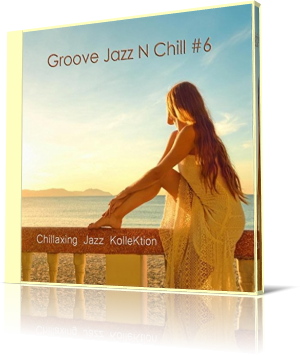 The facts about the multi-instrumentalist Konstantin Klashtorni are quickly put together. Since this multi-talented Ukraine born artist lives in a small city nearby Düsseldorf and built up his own studio, his musical activities are literally exploded. Personally, I consider him to be the most active musician in the Smooth Jazz genre.
I admit that activity is not everything. But his creativity and diversity of ideas sets new standards. Equipped with intuitive intelligence and the nose of a truffle hunter his melodies inspire me again and again. Influenced by the musicians Paul Hardcastle and Brian Culbertson I see him today on the same level. Among his numerous series includes Chillaxing Jazz KolleKtion.
Just released in this series is his sixth album, that was exclusively composed and recorded by him again. When you play the first piece Dearest, you immediately notice a certain closeness to the genre, which has since been forgotten, but as New Age still adequately describes the sound. Starting with a trippy water effect Konstantin quickly dives into the portfolio of his sound equipment, where the crystal clear acoustic guitar ensures a melodic constancy.
Love at Midnight clarifies the intimate knowledge that Konstantin possesses about all known effects of the chill out genre and uses it purposefully to cause emotional vibrations. He correctly names the first highlight of his album Inspiration, because he unerringly controls the right combination of engaging melody and heavenly harmony. Serendipity puts the focus on the dreamy. Konstantin often changes the instrumentation, which somewhat affects the straightness and harmony of the piece.
The return, concentration and awareness to and on his main instruments such as sax and guitar on A New Day are downright refreshing. Four Miles follows the known concept to combine guitar, flute and synth sounds in creating a dreamy atmosphere. Eyes Like Sapphire is a lyrical title that finds its equivalent in the musical counterpart.
And then comes a piece in which everything fits. It's Only You is dedicated to the dear partner and fully lives up to its beauty. All the Way, An Evening's Tale, Above the Moon and Still Waters are further amazing songs with a soothing character, who do not expect much attention, but nevertheless generate the well-being of the listener.
Groove Jazz N Chill # 6 offers as awaited a charming air of accessibility and warmth. Compared to its forerunners this album is a stringent continuation of the successful principle.




Buy the album in all stores

Album Information

Title: Groove Jazz N Chill # 6
Artist: Chillaxing Jazz KolleKtion
Year: 2018
Genre: Smooth Jazz
Label: KVK Music

Tracks:

1 Dearest 3:51
2 Love at Midnight 4:37
3 Inspiration 5:30
4 Serendipity 4:38
5 A New Day 4:44
6 Four Miles 4:12
7 Eyes Like Sapphire 4:35
8 It's Only You 4:39
9 All the Way 5:03
10 An Evening's Tale 4:50
11 Above the Moon 4:13
12 Still Waters 4:40