| | |
| --- | --- |
| Archive | |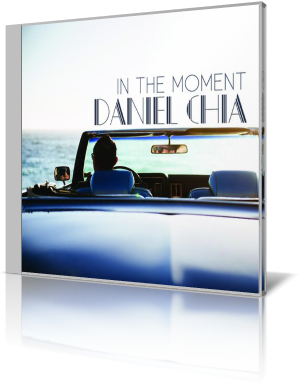 Singapore based saxophonist Daniel Chia is boarding the smooth jazz scene with a stroke of genius. He has hired the best crew that can be found for the production of his first work In The Moment (2017).
With Paul Brown as the producer and co-writer on his side the list of participating musicians is reading like a Who-is-who of the branch. The album has a sonic jump start with Cali Style. The casual lounge style shows us the impeccable handwriting of guitarist Paul Brown. Daniel's sax performance seamlessly integrates in the overall high-level interpretation.
The second track is aptly titled Retro, a reference to the Motown sound underlined by the rhythm and the instrumental environment of Carl Burnett, who knows the roots from his personal experience.
Life's A Beach has that certain sprightly bounce and vitality many musicians try and never reached. Chia has found the modus operandi et vivendi, certainly with some assistance and patronage of producer genius Brown and multi-instrumentalist Carl Burnett. Tender is a lovingly and elaborately created song, which is particularly distinguished by the musical realization.
Just Because presents a rare novelty, the interplay of two saxophonists. Darren Rahn on soprano sax and Daniel Chia on tenor sax. Saxual harmonization in its natural appearance. The melodious concept of In The Moment partly reminds me of the Winans' hit Heaven, which is a testimony to the vitality of this song. Where Do We Go From Here features songstress Melina, who has released her debut album Wishing On Love under the wings of Paul Brown. A successful synergy from which Daniel Chia can benefit greatly.
Malibu Drive is not the typical west coast smooth jazz. Chuck Cymone gives the tune especially through the hip hop rhythm a certain urban twist. Say You Will is the second vocal piece of the album featuring Dax Reynosa as vocal interpret. Dax already worked on several albums by Paul Brown and other smooth jazz artists like Melina and Marcin Nowakowski.
The final tune Grace comes without big technical games or ballast, just concentrated on the melody and a solid presentation. That way the song shines and is the epitome of where real artistic creativity comes from.
Daniel Chia is lifted with In The Moment into the premier league of smooth jazz. He is one of the hot tickets for the near future.




Buy the album in all stores
Pre-sale of the album at
www.danielchiaofficial.com/music.

Album Information

Title: In The Moment
Artist: Daniel Chia
Year: 2017
Genre: Smooth Jazz
Label: Soundgrove Records


Tracks:

1. Cali Style
Daniel Chia, Paul Brown, Deyon Dobson & Thianar Gomis
Saxophone: Daniel Chia
Guitar: Michael Ripoll
Bass: Jeffrey Freeman
Keys: Jeffrey Freeman
Drums: Deyon Dobson

2. Retro
Daniel Chia, Paul Brown & Carl Burnett
Saxophone: Daniel Chia
Guitar: Carl Burnett
Bass: Carl Burnett
Keys: Carl Burnett
Drums: Carl Burnett

3. Life's A Beach
Daniel Chia, Paul Brown & Carl Burnett
Saxophone: Daniel Chia
Guitar: Carl Burnett
Bass: Carl Burnett
Keys: Carl Burnett
Drums: Carl Burnett

4. Tender
Daniel Chia
Saxophone: Daniel Chia
Guitar: Paul Brown
Bass: Roberto Vally
Keys: Marco Basci
Drums: Gorden Campbell

5. Just Because Feat. Darren Rahn
Daniel Chia, Paul Brown, Deyon Dobson & Tim Owens
Tenor Saxophone: Daniel Chia
Soprano Saxophone: Darren Rahn
Guitar: Michael Ripoll
Bass: Tim Owens
Keys: Tim Owens
Drums: Deyon Dobson

6. In The Moment Feat. Paul Brown
Daniel Chia & Paul Brown
Saxophone: Daniel Chia
Guitar: Paul Brown
Bass: Roberto Vally
Keys: Marco Basci
Drums: Gorden Campbell

7. Where Do We Go From Here Feat. Melina
Paul Brown & Dax Reynosa & Lew Laing
Vocals: Melina
Saxophone: Daniel Chia
Guitar: Lew Laing
Bass: Roberto Vally
Keys: Lew Laing
Drums: Lew Laing
Background vocals: Paul Brown

8. Malibu Drive
Daniel Chia, Paul Brown & Chuck Cymone
Saxophone : Daniel Chia
Bass: Chuck Cymone
Keys: Chuck Cymone
Drums: Chuck Cymone

9. Say You Will
Daniel Chia, Paul Brown & Dax Reynosa
Vocals: Dax Reynosa
Saxophone: Daniel Chia
Guitar: Paul Brown
Bass: Roberto Vally
Keys: Marco Basci
Drums: Paul Brown

10. Grace
Daniel Chia
Saxophone: Daniel Chia
Guitar: Paul Brown
Bass: Roberto Vally
Keys: Marco Basci
Drums: Gorden Campbell
Strings: Marco Basci