| | |
| --- | --- |
| Archive | |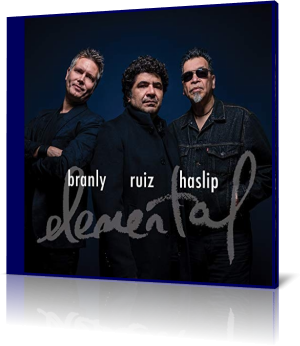 Top musicians have a certain resemblance to star chefs. Their outstanding position is based on talent and a lot of passion. When three musical greats come together, then we experience an event of a special kind, fusion jazz in the truest sense of the word. Otmaro Ruiz, Jimmy Branly, and Jimmy Haslip form Elemental.

On the new album Otmaro Ruiz performs piano, Fender Rhodes and synths, Jimmy Branly drums, and Jimmy Haslip electric bass. Ruiz has written all tracks with the exception of Boomtown, which is from the Yellowjackets album Mint Jam (2001).

The aptly titled introduction A Good Start presents three of the most talented contemporary jazz players on the scene in a breathtaking action. Otmar Ruiz keeps the music flowing on synth and keys while Branly and Haslip provide the right rhythmic frame for it.

Greed is Ruiz next artful manipulation of tones in fusion transformation with impressionistic improvisation. The rhythm enhanced Dig stimulates with syncopated sound sequences. Boomtown is from the second live album Mint Jam of the jazz group Yellowjackets released in 2001. The new interpretation on this album is more courageous and more eager to experiment in a fusion of post bop. Especially the long drum and key solos give this tune the additional punch.

Whoever has imagination will be beamed to the Middle Kingdom with Red Wall. The band interrupts their current contemporary jazz program with Low Row for an excursion into the hard bop realm. The Waiting Game is one of the creative apex of Otmaro's jazz addicted career. Part Time Smart is a further selection of the fusion jazz DNA this trio has to offer.

Dark Waters wafts along the shores of gloom producing tales of imagination with smoldering intensity. Surreptitious Moves starts with an intense drum solo drifting into clenched atonality of jazz.

Elemental by Otmaro Ruiz, Jimmy Branly, and Jimmy Haslip is for die hard fans of fusion jazz, an elite circle of jazz connoisseurship.



Buy the album in all stores

Album Information

Title: Elemental
Artist: Branly, Ruiz, Haslip
Year: 2018
Genre: Fusion Jazz
Label: Blue Canoe Records


Tracks:

1 A Good Start 4:35
2 Greed 5:12
3 Dig 6:06
4 Boomtown 4:59
5 Red Wall (Va a Caer) 7:55
6 Low Row 5:17
7 The Waiting Game 4:50
8 Part Time Smart 6:26
9 Dark Waters 7:24
10 Surreptitious Moves 4:55