| | |
| --- | --- |
| Archive | |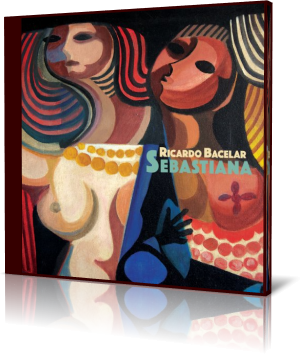 Brazilian composer and pianist Ricardo Bacelar entered the music world with his debut album In Natura (2001), an album with classical impression and manifestation. The second one, Concerto para Moviola (Concerto for Moviola), is a live album, recorded in 2015 during the Guaramiranga Jazz and Blues Festival at the Via Sul Theater, Fortalezea, Ceara, Brazil, with an eight-member band, presenting jazz fusion and Brazilian music. Sebastiana (2018) is Ricardo's third and most ambitious project.
With Sebastiana pianist Ricardo Bacelar pursues a completely new concept. For his Brazilian reinterpretations and originals he assembled an International crew of musicians from Cuba, Argentina, Venezuela, Colombia, Peru and the United States. From Brazil Cesar Lemos (bass, guitar), Maria and Sara Queiroz Bacelar (percussion), vocalists Rose Max, and Ramatis Moraes, from USA vocalist Maye Osorio and guitarist Steve Hinson, from Venezuela Anderson Quintero (drums, percussion) and vocalist Andrea Mangiamarchi, from Cuba Yoel Del Sol (percussion), from Colombia Channo Tierra (accordion) and Jose Sibaja (trumpet, flugelhorn), from Peru Jesus Rodriguez (percussion and Charango), from Argentina Gabriel Fernandez (Bandoneón).
A Volta da Asa Branca (The White Wing Tour) immediately takes us into the colorful world of folk music of which we have so many borrowings and which fills our hearts with innocent joy. Suco Verde (Green Juice) is a mixture of ingredients which is found in the food culture of many peoples with different components. Musically, the taste of fusion jazz clearly sets in here.
Nothing Will Be as It Was features vocalist Maye Osorzio and pedal steel guitarist Steve Hinson covering a song by Brazilian artist Milton Nascimento from his album Milton (1976), which was interpreted for the first time by Flora Purim on the same titled fusion jazz album. This rendition has some country flavor through the choice of a pedal steel guitar as main instrument strangely mixed up by a synth sound and Maye's lovely voice.
The interlude River of Emotions shows a piano interplay by Ricardo Bacelar. (Toda) Menina Baiana is a Bahian Samba pop song by Gilberto Gil from his album Realce (1979). Ricardo's reinterpretation inhales the Samba rhythm of the original, however refines the whole thing with a gracious piano arrangement.
Somewhere in the Hills is a jazz classic, already performed by Ella Fitzgerald, Nathalie Cole, Sergio Mendez, and more. The song was composed by Vinícius de Moraes, Ray Gilbert and Antônio Carlos Jobim, who originally performed this melancholic Bossa Nova. The rendition is performed by vocalist Andrea Mangiamarchi with a jazz flavored timbre in the style of the 40's.
The Brazilian percussionist Airto Moreira popularized the Partido Alto rhythm on a composition appropriately titled Partido Alto on his 1979 album Touching You, Touching Me, with vocalist Flora Purim. This rendition of Partido Partido Alto (High Party) cultivates a dialogue between Bacelar's piano and Jose Sibaja's trumpet. The second piano interlude Parts of Me calms down the heat.
Sambadouro was composed by Vitor Martins and Ivan Lins. This song is so popular that it was released on numerous collections of Brazilian music. This cover features Brazilian vocalists Rose Max & Ramatis Moraes. Oh Mana Deixa Eu Ir (Caicó Cantiga) has to offer a long musical history. The song was originally composed by Heitor Villa-Lobos as part of the piano classic album Bachianas Brasileiras No. 4 - Ária: Cantiga. Brazilian singer Milton Nascimento covered the theme as Caicó (Cantiga) for his album Sentinela (1980). Vocalist and pianist Ricardo Bacelar finally transfers the song to a contemporary jazz rendition with elements of smooth jazz and Latin jazz.
Sebastiana is one of the most popular songs by Rosil Cavalcanti written in 1953 in partnership with Jackson do Pandeiro. With changed instrumentation, pace and arrangement this evergreen celebrates its estates. Depois dos Temporais (After the Storms) is the second song by Vitor Martins and Ivan Lins. The rendition features Gabriel Fernandez on Bandoneón authentically leading the melody together with Bacelar on piano to the core of Brazilian sound.
Vento de Maio (Wind of May) is composed by Brazilian songwriter, singer and guitarist Lô Borges for his album A Via-Láctea (1985). Bacelar enriches the vocal tune with a fulminant orchestral arrangement. Sernambetiba, 1992 is a creation by Bacelar in collaboration with Cesar Lemos which seamlessly joins the previous compositions. The Best Years is a final piano epilogue and mood completion.
Ricardo Bacelar's Sebastiana is a piece of cultural history, contemporary art, style guide, musical ethnology, throughout an object of desire for aficionados of Brazilian Music.




Buy the album in all stores


Album Information

Title: Sebastiana
Artist: Ricardo Bacelar
Year: 2018
Genre: Latin Jazz
Label: Bacelar Productions


Tracks:
1 A Volta da Asa Branca 4:06
2 Suco Verde 4:13
3 Nothing Will Be as It Was (feat. Maye Osorio) 4:05
4 River of Emotions 0:45
5 Menina Baiana 4:21
6 Somewhere in the Hills (feat. Andrea Mangiamarchi) 3:57
7 Partido Alto 4:06
8 Parts of Me 0:41
9 Sambadouro (feat. Rose Max & Ramatis Moraes) 4:05
10 Oh Mana Deixa Eu Ir (Caicó Cantiga) 4:19
11 Sebastiana 4:57
12 Depois dos Temporais 5:01
13 Vento de Maio 4:01
14 Sernambetiba, 1992 (feat. Cesar Lemos) 4:46
15 The Best Years 1:10