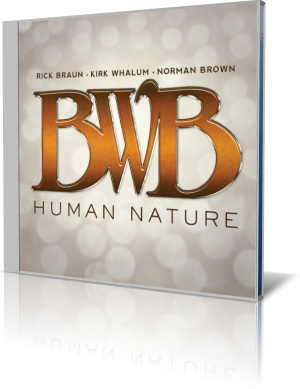 Michael Jackson throws after his death still a powerful shadow. After Bob Baldwin's tribute album Never Can Say Goodbye three further giants of smooth jazz present their very own homage Human Nature (2013). BWB is named after the musicians Rick Braun, Kirk Whalum and Norman Brown. Their first co-operation Groovin' was released in 2002 on Warner Brothers. With their sophomore effort they reunited to do a Michael Jackson songbook.
The formation is joined by John Stoddart (keyboards), Braylon Lacey (bass), Khari Parker (drums), Lenny Castro (percussion) and Ralph Lofton (organ). To do an album of just covers carries some risk, especially when the original is so often played. On the other hand good jazz musicians have to overcome such obstacles.
That said the trio improvise on Another Part Of Me presenting their special skills and perfect written arrangement, thus transforming a well-known tune to a jazzy element. With Billie Jean they showcase brilliantly created harmonies. The concept is illustrated anew with the song Human Nature. A simple designed melody develops to a well thought out piece.
The interesting question is how the trio interprets a piece like Beat It, that eludes due to its dynamic structure a jazz interpretation. As further evidence their work shows the ingenuity of the musicians. Undoubtedly, slow songs like Who's Lovin' You are more likely to convert, this time to the blues. She's Out Of My Life proves once again the true qualities of the trio.
Before drowsiness spreads, the band makes Shake Your Body (Down To The Ground) for mood. Which The Way You Make Me Feel joins seamlessly. I Can not Help It grows out to a fundamental size with a broad instrumentation. Also, I'll Be There and Man In The Mirror are offering the listener ear candy of the finest.
Who is a good friend of the songs by Michael Jackson, really get one's money's worth. Human Nature is by far one of the best instrumental implementation.