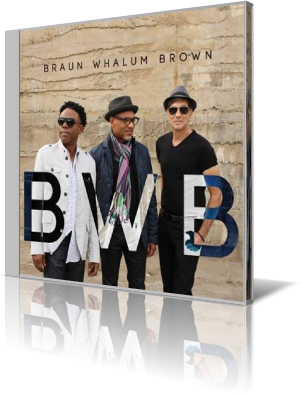 BWB is named after the musicians Rick Braun, Kirk Whalum and Norman Brown. Their first co-operation Groovin' was released in 2002 on Warner Brothers. With their sophomore effort Human Nature (2013) they reunited on Heads Up Music to do a Michael Jackson songbook. Their third strike is aptly entitled BWB and released in 2016 on Mack Avenue Records.
The formation is joined on selected tracks by Hamilton Hardin and Herman Jackson (keyboards), Braylon Lacey and Nathaniel Kearney Jr. (bass), Third Richardson and Gordon Campbell (drums), Lenny Castro (percussion), Demille Cole-Heard (vocals) and Ralph Lofton (Hammond B3). The new album is the result of exercises in Braun's suburban Los Angeles-area home studio where the band moved in with their families and lived together for an entire week.
The recorded songs are without any exception own creations, masterly produced by Rick Braun. Triple Dare starts the album with an horn arrangement inspired by The Crusader's Streetlife. Bust A Move brings the funky vibe into the session. Instead of covers like on the trio's debut album, they showcase their personal prowess on this party burner.
The title song sees the group in an effortless going jammin' in the spirit of Bob Marley. Bolly Bop surprise the audience with Indian influenced sound. Tablas and sitar rule. A fresh approach to West Coast smooth jazz.
Romance lives on I Want You Girl. Mellifluous harmonies are melting in your ears. Listen to the trio on the summit of their artistry. Lemonade with a twist. Insiders will remember the legendary lemonade weekend with the late Bruce Nazarian. Take this song as a tribute.
Waking up on a sunny Sunday morning. The scent of warm bread rolls reaches you, the sun's rays tickle your nose and the world is in order. That is the time for Memphis Steppin'. Hey Baby features singer Demille Cole-Heard, whose sonorous voice is limited to the repetition of the refrain. At the golden center of the piece however floats a sophisticated horn arrangement.
Guitar, trumpet and sax are also the triumvirate of North Star. Perfectionism at work. When joy and James Brown mingle, then this is Turn Up.
The supergroup BWB returns with sonic power. Their third album BWB is more than the sum of three professional musicians. A fireworks of ecstasy and inventiveness.